RACING THIS WEEK
FEATURES
SERVICES
Fastest qualifier Ilushion Eagle will head $101,250 Los Alamitos Maiden Stakes here on Sunday night after winning three races in a row.

© Scott Martinez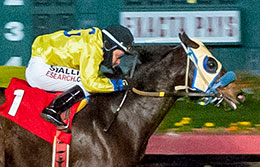 Ilushion Eagle Is Strictly One To Beat In Maiden Stakes On Sunday
LOS ALAMITOS, CA—FEBRUARY 18, 2021—
Jaime Gomez expects to have a lot of fun training Ilushion Eagle in 2021. The son of last year's leading first-crop sire of winners,
One Fabulous Eagle
, is expected to be the big favorite in the $101,250 Los Alamitos Stakes here on Sunday night after winning three races in a row.
It's Ilushion Eagle's most recent victory, a two-length romp in the trials to the Maiden Stakes on January 31, that has Gomez excited about the gelding's prospects for this year. Not only did the gelding post the current meet's fastest 350-yard time of :17.415, but his clocking for the final 220 yards in that race was a sizzling fast :09.32.
That 'come-home-time' is the fastest at 350 yards since AQHA World Champion Heza Dasha Fire's won the Grade 1 Ed Burke Million Futurity on June 22, 2014. Heza Dasha Fire's clocking in the final 220 yards of that race was also :09.32.
"You don't see that fast of a final fraction for Quarter Horse race very often," Gomez said. "Ilushion Eagle is what you call a natural runner. I think he's one of the nicest 3-year-olds I have right now. This horse has grown since I first got him. We took our time with him and that patience has paid off."
Win or lose the Maiden Stakes on Sunday night, Gomez is already dreaming of a big second half of the year with Ilushion Eagle.
"He's paid to the All American Derby trial in mid-August and if he continues like he is right now we might supplement him to the Los Alamitos Super Derby. He's also AQHA Challenge eligible. Maybe we give him some time off and pay the $30,000 to make him eligible to the Super Derby. He's going to be fun."
Ilushion Eagle is the first Quarter Horse that owner Salome Gallegos has campaigned at Los Alamitos. He's also owned four stakes' runners in the past, including SF Royal Bank, the runner-up to champion Heartswideopen in the Grade 1 All American Futurity in 2007. Gallegos has also campaigned Grade 3 futurity winner Royal Down Ryon and Corona Devil, a multiple stakes winner in Mexico City 2011.
The main threat to Ilushion Eagle in the Maiden Stakes is Carlos Avalos' Outta Dodge, who won his trial by a length in the second fastest time of :17.564. Ridden by Erasmo Gasca for trainer Jose Flores, Outta Dodge came into the trials after a winning effort on December 5. A gelding by Favorite Cartel, he is a full brother to 2020 Los Alamitos Winter Derby runner-up You Can Run. Avalos claimed Outta Dodge for $16,000 last June.
To have been eligible to compete in the January 31 Maiden trials, horses had to have been maidens as of January 1. Eight others will join Ilushion Eagle and Outta Dodge in Sunday's final. The list includes trial winners Sullee and Too Sass For You, the latter a 25-1 upset winner on trials night.
* * * * * * * * * * * * * *
For more info, please contact larace@losalamitos.com. Follow us on Twitter or Instagram at @losalracing or visit us online at www.losalamitos.com.