RACING THIS WEEK
FEATURES
SERVICES
Home
>
Preview Racing
>New York Teller MRL, Griffindore Among Juveniles Set To Debut On Friday
Quarter Horse's all-time leading trainer Paul Jones will send out two juveniles New York Teller MRL and Griffindore for their career debuts Friday night at Los Alamitos Race Course.

© Los Alamitos Race Course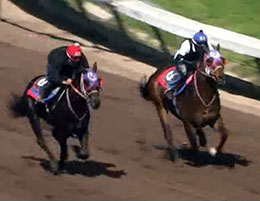 New York Teller MRL, Griffindore Among Juveniles Set To Debut On Friday
LOS ALAMITOS, CA—APRIL 7, 2021—
Live racing continues at Los Alamitos with the 40th racing program of the meet on Friday night. Eight races are on tap with the Early Pick Four sequence consisting of races around the turn and the Late Pick four sequence featuring races for 2-year-old Quarter Horses.
Starting with last Friday's card, fans can enjoy the on-track racing action at Los Alamitos. Tickets can be purchased online at LosAlamitos.com.
Some exciting Quarter Horse racing prospects are set to debut on Friday with Paul Jones, the breed's all-time leading trainer in earnings with over $88 million, looking to unveil a couple of his top stars.
In race five, Jones will saddle Haras Portofino's New York Teller MRL, a Brazilian-bred filly by Teller Cartel who posted the second fastest 220-yard morning work of the day on March 2 before returning to post the fastest of 48 drills at that same distance on March 20.
Bred by Anapurus Comercio E. Partnership Limited, the filly is well drawn for her debut, as she will start from the outside post six for this 220-yard race. This post should allow her the best opportunity to have a clean trip and that is key as she's left from the outside post in both of her morning works and each time has left the gate towards the inside before moving back outside.
Ramon Sanchez, a two-time AQHA champion jockey, is back to riding like one of the best Quarter Horse pilots in the nations after several quiet years. Sanchez is currently the meet's third leading straightaway rider with 14 wins. His mounts are winning at a 34% clip.
In race eight, Sanchez and Jones will then team up with Jimmy and Marilyn Harrel and Thompson Racing's Griffindore, a Corona Cartel colt who was $120,000 purchase at the Heritage Place September Yearling Sale.
Griffindore worked alongside New York Teller MRL on March 20 when getting bumped lightly by that rival before finishing nicely to match her strides in the later stages of that work. Griffindore's first gate work came on February 27 when he posted the fastest of 19 drills. Griffindore will start from post six in the 300-yard dash.
Other juveniles to watch on Friday include Boogies Best Dream, a half-sister to AQHA champion and PCQHRA Horse of the Year J Fire Up, and Crystal Prize, a half-sister to AQHA champion Walk Thru Crystal. They'll face off in race six.
The seventh race will be led by Majority Interest, who is a half-brother to Grade 1 winners Powerful Favorite and Runforyourlife. Purchased for $57,000 at the Los Alamitos Equine Sale, he is owned by Bradbury Racing, Robyn Gordon, the Harrels and Thompson Racing. Sanchez and Jones also join forces for Majority Interest's debut.
There are a couple of returning starters in these races.
Ricardo Ramirez's I Lean will make her second start when she takes on Majority Interest in the seventh race. I Lean was third in her debut on March 20.
Mike Tillemans' Red Hot Topic also returns to action, his comeback outing in race six. The son of leading first-crop sire of winners' Fly Thru The Fire was fourth when taking on the exciting sprinter Mookkie on March 26.
* * * * * * * * * * * * * *
For more info, please contact larace@losalamitos.com. Follow us on Twitter or Instagram at @losalracing or visit us online at www.losalamitos.com.