RACING THIS WEEK
FEATURES
SERVICES
Stakes winner Hopelblue (#3) is one of 22 hopefuls going to the post in the Wild West Futurity trials Sunday night at Los Alamitos Race Course.

© Scott Martinez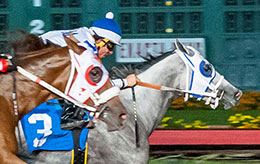 Three Wild West Futurity Trials On Tap On Sunday Night
LOS ALAMITOS, CA—SEPTEMBER 26, 2021—
Twenty-two juveniles will be in action in the trials to the Wild West Futurity tonight (Sunday) at Los Alamitos headed by a rematch between Hopefulblue and Zoomin For Trix, who finished 1-2, respectively, in The Plan Handicap on September 4.
Three trials will be contested at 350 yards and have been carded as the final three races on the 10-race card. The horses with the 10 fastest times in the trials will advance to the Wild West final on Sunday, October 17.
Trained by Matt Fales for owner Martha Wells, the gray filly Hopefulblue was tremendous in winning The Plan in gate to wire fashion, flying out of the gate and holding off Zoomin For Trix, who arrived here after running third in the $119,000 Bitterroot Futurity. Zoomin For Trix bumped at the start and will look to improve in his second local start.
Other top runners in the trials include Bitterroot finalist Harts Hero, who will join Hopefulblue and Zoomin For Trix in the opening heat, plus Mister Bigg, who was third in The Plan and now leads the second trial. The final trial will be headed by Rayshas Kidd Trax, who was third in the $78,000 Wyoming Futurity last month.
* * * * * * * * * * * * * *
For more info, please contact larace@losalamitos.com. Follow us on Twitter or Instagram at @losalracing or visit us online at www.losalamitos.com.