RACING THIS WEEK
FEATURES
SERVICES
Acacia Walker (right) at the AQHA Convention in San Antonio, Texas.

© Becky Newell / AQHA Journal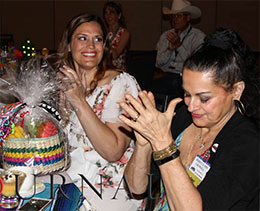 Foundation Auctions Raise More Than $100,000
By AQHA Media Editor-In-Chief Becky Newell
THE AMERICAN QUARTER HORSE JOURNAL—MARCH 19, 2017—Horse-crazy from birth, Acacia Walker was able to pursue her horse passion in the hunter-jumper arena and the American Quarter Horse show scene in California. A love of riding Quarter Horses was stolen from the young mother when she and her son were in a horrible car accident.
Unable to use her legs after the accident, Acacia eventually turned to hippotherapy to help her regain the use of her legs and continue her riding career aboard her Quarter Horse, "Hershey."
"They say it takes a village to raise a child, well, it took a barn – and all of my barnmates – to get me back on a horse and walking again," she told the sold-out crowd at the 2017 American Quarter Horse Foundation Benefit Luncheon on Sunday, March 19, in San Antonio.
The facility where Acacia did the therapeutic riding that helped her regain use of her legs is one of many facilities that are funded through the Foundation's America's Horse Cares program. Through the use of equine-assisted activities and therapies, thousands of special-needs individuals experience the freedom of mobility. The rhythmic movement of a horse mimics the human gait and allows those with physical, cognitive or emotional limitations to enjoy the same freedoms able-bodied riders may take for granted. Riders move fluidly with the horse in a way most have never experienced, and in turn help improve balance, muscle strength and flexibility.
Acacia's testimony of how therapeutic riding got her back on her feet was the keynote speech at the fiesta-themed luncheon, where the Foundation raised more than $100,000. Items up for bid in the silent and live auctions included jewelry, aged Pendleton Whisky, vacations, and Billy Klapper spurs and bit.
That money raised goes toward the focus areas of the Foundation: ul>
Preserve and interpret the various roles the American Quarter Horse has held throughout history.
Support the educational advancement of our industry.
Protect and enhance the physical well-being of all equines.
Promote the American Quarter Horse's capacity to provide physical and emotional benefits to individuals in need.

The Foundation Benefit Luncheon showcases the work of the Foundation and honors its volunteers. This year's luncheon is underwritten by the Amon G. Carter Foundation.