RACING THIS WEEK
FEATURES
SERVICES
AQHA Racing champion trainer Judd Kearl is off to a fast start in the 2017 Sam Houston Quarter Horse meet with 14 wins.

© Coady Photography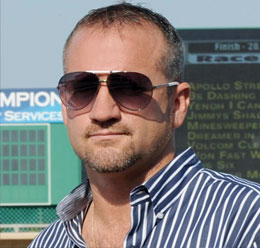 Last Season Leaders Top Standings This Week at Sam Houston Race Park
HOUSTON, TXóAPRIL 15, 2017ó
There will be plenty of live racing action and entertainment this weekend at Sam Houston Race Park. Saturdayís card includes four Bank of America Maiden Challenge trials, followed by the $28,440 Merial Texas Distaff Challenge as well as the final of the $103,320 Bank of America Texas Challenge Championship (G2) (
see related story
).
2016 Leaders Top Standings at Sam Houston Race Park
Trainer Judd Kearl is off to a fast start in the 2017 Sam Houston Quarter Horse meet with 14 wins. He has won seven Sam Houston leading trainer titles to date. Leon Bard has some very nice runners in his barn, and is second in the standings with seven wins and a sizzling 76% of his starters hitting the board. Jose Sanchez rounds out the top three with five victories.
Luis Vivanco who finished in a tie with Rodrigo Vallejo last year, are tied once again following the first four weeks of the 2017 racing season. Both have won 12 races. Francisco Calderon is also having an excellent meet with ten winners, including last Saturdayís stakes win aboard Stolis Pro in the $18,900 AQHA Texas Distance Challenge.
Pete A. Scarmardo has won three races and the three-time leading Sam Houston Race Park owner has taken the lead in the owner standings the lead over Holly Hooper, Filimon Saucedo, Paragon Farms LLC, A. D. Maddox, Rogelio Marquez Jr, Shirley Richardson and Pete and Greta Guerra.
* * * * * * * * * * * * * * * *
On Friday night (April 21) donít miss Food Truck Friday with some of Houstonís favorite Food Trucks including Churrascos; Boogie's Chicago Style BBQ; Greedy's Food Truck; Pita Bites; Foodgasm Food Truck; Chubbz Grubbz; Reigns Food Truck; Truck on The Bayou and Cupcake and A Smile. Live racing gets underway at 7:00 pm with the popular 50-cent Beer Friday from 6-9 pm.
Easton Corbin Performs Saturday Night in the Spring Concert Series at Sam Houston Race Park
The entertaining 2017 Spring Concert Series returns to the Bud Light stage this weekend with Easton Corbin performing on Saturday, April 22. The series continues through May 19 with the artists taking to the stage immediately following the live Quarter Horse races.
The featured performers are:
April 22 Easton Corbin
April 29 Roger Creager
May 13 Josh Abbott Band
May 19 Casey Donahew Band
Concert admission is FREE with $7 live racing admission before 8pm. Tickets are available at www.shrp.com, at participating Houston-area Randallís locations, or by calling 800-211-3381.
* * * * * * * * * * * * * * * * * * *
Sam Houston Race Park is Houstonís premier racing and entertainment facility, located just 15 miles from downtown Houston, and offers a variety of attractions including our Suite Level presented by Draft Kings, The Pavilion Centre, and award-winning dining options at the Winnerís Circle Restaurant and the Jockey Club. For more information on upcoming group events, racing events, shows and tickets, please visit www.shrp.com.