RACING THIS WEEK
FEATURES
SERVICES
Race fans at Sam Houston on Saturday can enjoy a special 1:00 pm afternoon racing program and watch Kentucky Derby winner Always Dreaming race in the 142nd Preakness Stakes from Pimlico.

© Maryland Jockey Club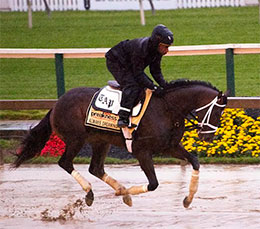 Preakness Stakes Simulcast Heads Special 1:00 pm Live Racing Program Saturday at Sam Houston
HOUSTON, TXóMAY 17, 2017ó
Sam Houston Race Park hosts its final weekend of live American Quarter Horse racing beginning Friday.
Fans can enjoy live racing on Friday evening at 7:00 p.m. and a special 1:00 pm Saturday afternoon racing program in conjunction with the running of the 142nd Preakness Stakes on Saturday.
Stakes action this weekend includes the final of the $70,020 John Deere Texas Juvenile Challenge (G3) and the $55,260 Adequan Texas Derby Challenge (see related story).
Racing fans are invited to stay and enjoy the final performances of the Post Race Concert Series, beginning at 6:00 p.m. Cody Johnson along with special guests Cory Morrow and Gary P. Nunn will take to the Bud Light stage following live racing and the simulcast of the Preakness Stakes.
Racing will wrap up on Monday (May 22) with 12 races beginning at noon. Sam Houston Race Park will honor its leading owner, trainer and jockey on closing day.
Sam Houston Race Park to Simulcast the 142nd Preakness Stakes
Always Dreaming, winner of the Kentucky Derby, will take the next step to clinch racingís prestigious Triple Crown winner this Saturday in the 142nd Preakness Stakes. The highly-anticipated race takes place at Pimlico Race Course, and Sam Houston Race Park will simulcast the full card from the Baltimore, Maryland racetrack. The first race on Saturday's Preakness Day card runs at 9:30 a.m. (CT).
For those horseplayers unable to bet on Preakness Day, Sam Houston Race Park will offer advance wagering on Friday, May 19. Fans can place a bet by driving to the valet parking circle from 7:30 a.m. until 10:00 a.m. "Preakness Early Bird Wagering" will also be available on Saturday, May 20 beginning at 7:30 a.m.
Judd Kearl and Rodrigo VallejoTop Standings at Sam Houston Race Park
Trainer Judd Kearl continues his dominant showing in the 2017 Sam Houston Quarter Horse meet with 27 wins. He has won seven Sam Houston leading trainer titles to date. Jose Sanchez added four wins last week to move into second place with 15 wins. Leon Bard and Brian Stroud are tied for third with 12 wins each.
Rodrigo Vallejo remains on top of the 2017 jockey standings with 25 wins. Francisco Calderon tied Juan Francisco Garcia, Jr. for second place, with 18 winners each. Luis Vivanco is third with 16 trips to the winnerís circle.
A. D. Maddox is the leader in the owner race with seven wins. Pete A. Scarmardo follows with four victories and Holly Hooper, Rogelio Marquez Jr., Estate of Fred Yamaguchi, Greta and Pete Guerra and Jerry Windham have each won three races this season.
Casey Donahew Band Closes Out the Spring Concert Series at Sam Houston Race Park
The entertaining 2017 Spring Concert Series wraps up this weekend with the Casey Donahew Band on the Bud Light stage Friday, May 19.
Concert admission is FREE with $7 live racing admission before 8pm. Tickets are available at www.shrp.com, at participating Houston-area Randallís locations, or by calling 800-211-3381.
* * * * * * * * * * * * * * * * * * *
Sam Houston Race Park is Houstonís premier racing and entertainment facility, located just 15 miles from downtown Houston, and offers a variety of attractions including our Suite Level presented by Draft Kings, The Pavilion Centre, and award-winning dining options at the Winnerís Circle Restaurant and the Jockey Club. For more information on upcoming group events, racing events, shows and tickets, please visit www.shrp.com.