RACING THIS WEEK
FEATURES
SERVICES
Century Downs Racetrack and Casino brings the long-lived passion of horse racing back to the city of Calgary.

© Century Downs
Century Downs Ushers in Quarter Horse Racing
By Martha Claussen
CALGARY, ALBERTA—OCTOBER 6, 2017—Change is in the air in Western Canada, and it's not just cooler weather and lush autumn leaves turning red and gold. Quarter Horse racing has made its debut at Century Downs Racetrack and Casino in Rock View County, just north of Calgary.
The track, which opened in April, 2016, hosted Standardbred racing for its first three years, but on February 3, 2017, Century Downs reached an agreement with the Horsemen's Benevolent and Protective Association of Alberta to run Thoroughbreds, after a nine-year absence.
The live meet got underway on September 23 with Thoroughbred Racing. On October 1, Quarter Horses took to the track, competing in 400-yard trials for the $60,646 Canada Quarter Horse Cup Futurity.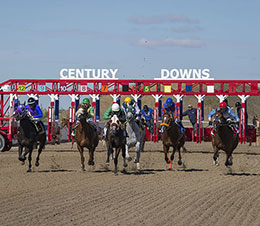 On October 1, Quarter Horses competed in three 400-yard trials for the $60,646 Canada Quarter Horse Cup Futurity.
© Century Downs
Paul Ryneveld, is the general manager and has been at the helm at Century Downs since its opening. A graduate of the University of Arizona Race Track Industry Program (RTIP), he worked at Emerald Downs, Remington Park and Sunland Park prior to relocating to Canada in 2013.
"We are just entering our third week of the meet, but the interest in Quarter racing is evident already," he said. "Horses have always been part of the culture of Alberta. Barrel racing, ranching and rodeo competition are very popular. Spruce Meadows, a world renown equestrian facility in Calgary, draws people from all over the world for its events and horse shows."
Wesley Oulton, who has been involved in the racing industry since 1977, is currently the secretary of the Alberta Quarter Horse Association (AQHRA). Oulton knows the landscape of American Quarter Horse racing and participated in the 2016 Bank of America Challenge Championship with his homebred, Juno Dat Timber. He is encouraged that Century Downs, the newest racing venue in Alberta, has added Quarter Horse racing this season.
The track received AQHA approval on Friday, September 30, after implementing several required measures. The removable rail was installed and the track surface of 12,000 yards was put in place. The new wireless timing system was utilized for the Canada Quarter Horse Cup Futurity trials (see related story), with no mishaps. Furthermore, racing fans were able to see the action on a large screen.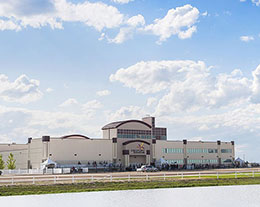 Century Downs Racetrack and Casino features Standardbred, Thoroughbred and Quarter Horse racing.
© Century Downs
"I ran one in the trials and it has to be the best surface we have ever raced on, with arguably the best straightaway in Alberta," said Oulton. "All three trial heats went off with limited concerns and no one was complaining after the races of not receiving a fair shot to qualify."
Both Oulton and Ryneveld are optimistic about the future of Quarter Horse racing in Alberta.
  "We are all working together to increase the viability of our industry and to get the public involved in live racing," added Ryneveld. "I see the upside for Quarter Horse racing at Century Downs. Our next step is attracting more owners and adding race dates. The growth is certainly attainable."
Century Downs offers off-track betting as well as casino gaming seven days a week. Their live racing season continues through Sunday, November 5. For a complete schedule of live race dates and post times, CLICK HERE.
* * * * * * * * * * * * * * * * *
Martha Claussen served as publicity director at Sam Houston Race Park for ten years. She continues to be active in writing, fan education and Quarter Horse racing publicity in Texas, Louisiana and other regions in North America.