RACING THIS WEEK
FEATURES
SERVICES
A conceptual site rendering for the proposed Canterbury Commons.

© Stantec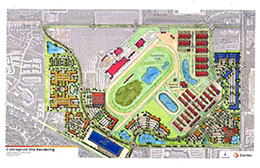 Canterbury Park Proposes $400 Million Redevelopment Plan
SHAKOPEE, MNóNOVEMBER 26, 2017ó
Canterbury Park officials unveiled a preliminary $400 million redevelopment plan last week during a local city council meeting. The proposal would relocate half the racetrack's horse barns to make way for a new development.
A $100 million luxury apartment complex, upscale townhomes, a 55+ housing co-op, an extended stay hotel, water park venture and full-service boutique hotel is part of the proposal.
"Itís a great catalyst for bringing in the rest of the development," Canterbury Park Holding Corporation President and CEO Randy Sampson said.
The project will also include office space to attract high-end jobs and businesses to Shakopee.
Canterbury Park will create the public infrastructure necessary to bring tenants to the area for a variety of ventures including new restaurant options, specialty retail, community gathering spaces, family entertainment venues and more.
The total private investment in the project would be around $300 million to $400 million.
"Every piece of our concept is something that revolves around actual conversations that weíve had with potential developers," Canterbury Park Media Relations Manager Jeff Maday said. "This is a well-thought out plan."
The city's comprehensive zoning plan will have to be amended, which requires the support of a super-majority of the council. The council is scheduled to vote on the amendment next month.
"I think this is a great opportunity for Shakopee and I think itís a tremendous opportunity for Canterbury," Shakopee Mayor Bill Mars said.
Canterbury Park, which includes live Quarter Horse racing yearly, draws more than 1 million visitors annually for racing, cards and other events.
Canterbury Park intends to race 70 days in 2018. Officials submitted a request to the Minnesota Racing Commission seeking approval of a schedule that would begin Friday, May 4 and conclude Sept. 15 for Quarter Horse and Thoroughbred racing (see related story).