RACING THIS WEEK
FEATURES
SERVICES
Eduardo Sosa earned the leading Quarter Horse jockey title at the recently completed Portland Meadows meet.

© Horsewinpix Photo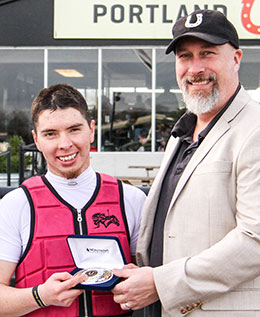 Magallanes and Sosa Earn Quarter Horse Titles at Portland Meadows By Tom Harris
PORTLAND, OR-FEBRUARY 6, 2018--
Portland Meadows lowered the curtain on the season of racing last Tuesday as the meet brought a number of achievements.
In the Quarter Horse standings, Eduardo Sosa edged out Jake Samuels by one win with 15 victories to Samuel's 14 wins. Robert Burney and Luis Gonzalez each had 5 wins as Kassie Guglielmino and Lorenzo Lopez each had four wins.
Trainer Hector Magallanes was the runaway winner of the Leading Quarter Horse Trainer standings with 22 wins. Nick Lowe was second best with 6 wins as Scott Raley recorded 4 wins on the meet. Trainers Silvestre Sanquino, Pablo Madrigal and Jaun Romo Jr. each saddled 3 wins on the season.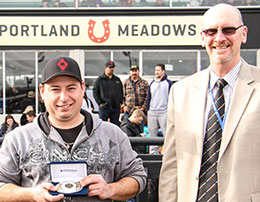 Hector Magallanes picked up the Leading Quarter Trainer award at Portland Meadows.
© Horsewinpix Photo
Jockey Kevin Orozco won the Leading Thoroughbred Jockey Title in an effort that took him into a battle with veteran pilot Jose Zunino. Orozco recorded 46 wins during his campaign at Portland Meadows which went alongside of his riding assignments at Golden Gate Fields, not to mention the young pilot missed the first portion of the meet at Portland. Jose Zunino finished out with 41 wins to his credit as Leonel Camacho Flores took third with 30 wins. Jake Samuels booted home 25 wins to finish fourth as Eliska Kubinova rounded out the top five with 21 wins.
Trainer Jonathan Nance saddled 34 winners to capture the top Thoroughbred Trainer award as Rigoberto Velasquez was runner-up with 29 wins. Robbie Baze recorded 14 wins as did Nick Lowe as Been Root and Howard Belvoir each had 12 wins.