RACING THIS WEEK
FEATURES
SERVICES
Longtime Quarter Horse owner Bob Rosenthal passed away on Monday.

© Scott Martinez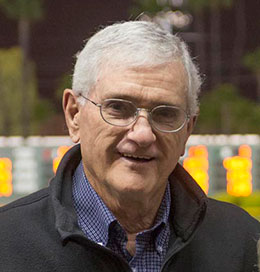 Quarter Horse Owner And Breeder Bob Rosenthal Passes Away
LOS ALAMITOS, CA--MARCH 7, 2018--
Bob Rosenthal, who along with his wife Connie, owned and bred Quarter Horses and Thoroughbreds for more than 30 years, passed away Monday (March 5) due to cancer. He was 82.
Bob Rosenthal campaigned 2016 Grade 1 Los Alamitos Winter Derby winner Fire At Will, 1987 Grade 1 Bay Meadows Futurity runner-up Dancedability and 1996 AQHA Claiming Stakes Challenge Final winner Bluyx plus many other top Quarter Horses over the years.
He first became involved in racing when he purchased a Shirley's Champion yearling filly named Lil Bit Blue from breeder Rod MacPherson in 1984.
Trained by H.L. Hooper, Lil Bit Blue gave the Rosenthals a winning moment when she broke her maiden on November 23, 1985, one of many special wins that the couple would enjoy in the sport. As a broodmare, Lil Bit Blue produced the hard-knocking runner Bluyx, who posted 13 wins in his career under the care of trainer Blane Schvaneveldt.
Danceability was another horse that Bob enjoyed. A homebred runner out of their broodmare Miss April Dancer, Danceability tied for the fastest qualifying time to the Bay Meadows Futurity, but finished second in the final to Past Due Payment. Danceability would later finish second in the PCQHRA Breeders Derby in 1988.
It was the Chris O'Dell-trained Fire At Will that gave the Rosenthals their first Grade 1 winner, while earning $166,727 in the process. He would also qualify to the Governor's Cup Futurity and PCQHRA Breeders Futurity. O'Dell trained the Rosenthals' current Quarter Horses, including recent winner Lizzys Favorite, while Mike Harrington has trained their Thoroughbred for many years.
Born in Los Angeles in 1935, Bob Rosenthal attended Hamilton High School and Loyola Marymount University in the Westchester neighborhood on the Westside of Los Angeles. The Rosenthals were introduced by mutuel friends and two went on a blind date in 1953.
They were married in 1955. Bob Rosenthal was already a big horse racing fan when he first met Connie. He would visit Santa Anita and Del Mar for afternoons of racing with his parents and became an avid student of the sport. One of his childhood memories was going to see the statue and grave of Man O' War. Decades later, Bob and Connie vacationed in Kentucky, where they visited Thoroughbred farms and attended Churchill Downs.
"Bob loved the horses," Connie said. "It was his passion. We talked about racing all the time. We had a ranch in Hemet for 10 years, but then were displaced by the Diamond Valley reservoir. We came to Winchester and bred, boarded and raised horses here."
The Rosenthal had recently welcomed a pair of newborn Quarter Horse foals - two colts, which Connie will race at Los Alamitos. A Thoroughbred by Square Eddie will soon be arriving at Los Alamitos to begin training under the tutelage of Art Sherman.
Bob Rosenthal was also a highly successful businessman. He was part owner of five electronic companies in partnership with two high school friends, including Calmark Corp, which specialized in producing card cages for computers. They sold Calmark Corp. seven years ago.
"For his 80th birthday, we had a big party for him," Connie said. "We invited all of his business associates and friends from horse racing. We had a great time celebrating Bob on that night."
In addition to his wife, Connie, Bob Rosenthal is survived by their six children and 10 grandchildren. There are no memorial services planned.
Courtesy of www.losalamitos.com.