RACING THIS WEEK
FEATURES
SERVICES
StallioneSearch's Greg Thompson in Oklahoma City with 2015 AQHA World Champion Ricky Ramirez.

© StallioneSearch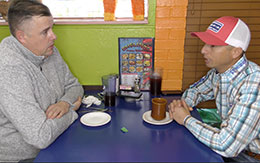 StallioneSearch Film Of The Month Debuts Sunday
DALLAS, TX—APRIL 13, 2018—
StallioneSearch.com is set to launch the StallioneSearch Film Of The Month on Sunday, which is a multi-part series of short films being sponsored by Horse Logic on StallioneSearch.com, as well as on Facebook.
For the introductory short film to begin the series, StallioneSearch.com's Greg Thompson introduces a new concept to the website entitled 'Dinner With Thompson'.
In these short films, Thompson interviews people of interest in the Quarter Horse racing world about their careers, as well as their achievements in the sport at an assortment of restaurants. In the first installment, Thompson interviews 2015 AQHA World Champion Ricky Ramirez in Oklahoma City about his career, and life as a successful jockey.
Every month on StallioneSearch, award-winning film maker Greg Thompson will unveil an assortment of StallioneSearch produced short-films centering around the sport of Quarter Horse racing. Here are a few upcoming films for the following months:
Quarter Horse Racing Relic Hunter
Greg Thompson visits the ranch of famed painter Orren Mixer, as his family allows him to tour the studio that houses not only an extraordinary amount of Quarter Horse racing history, but also it serves as the place where Mixer created such iconic paintings that continue to define industry standards of prototypical confirmation in multiple breeds.

Picking Quarters With The Thoroughbred Eye
Greg Thompson works with notable retired thoroughbred trainer Hal Wiggins, trainer of Preakness(G1) and Kentucky Oaks(G1) winner Rachel Alexandra, to apply his vast years of experience picking out thoroughbred yearlings at the 2017 September Ruidoso Quarter Horse Yearling sale.
Horse Logic is a nutritional supplement company, offering a wide array of equine products that can be shipped directly to your barn or stable. A product-line that is trusted by horse professionals from all over the nation, Horse Logic Professional is being endorsed by some of the leaders in the racing industry. Visit Horse Logic at horselogicpro.com.