RACING THIS WEEK
FEATURES
SERVICES
All Idaho horsemen are encouraged to sign support.

© Save Idaho Horse Racing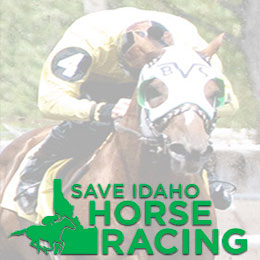 Idaho Horsemen: Call-to-Action
BOISE, ID—APRIL 13, 2018—
Save Idaho Horse Racing is asking for help from horsemen.
There are approximately three weeks left to gather enough signatures to put the Save Idaho Horse Racing initiative on the ballot this coming November. The campaign — which promises to revive the Idaho horse racing industry that supports many family farms, small businesses, hundreds of jobs, and even funding for our public schools — needs the horsemen community to be "all in" on this effort, particularly given the opposition's unethical tactics to try and stop these efforts.
SIHR is required to get just over 56,000 signatures of registered voters before April 30, including a percentage of signatures in 18 different legislative districts, so it is working across the state to get this done.
"The campaign has hired staff and perhaps you've seen our petition circulators out and about (wearing green t-shirts). To supplement their efforts, we need volunteers to deliver at least 5000 signatures. With 100s of horsemen and their families around the state, this should be realistic. Now is the time you can help us bring this effort across the finish line.
Here are two easy ways you can help:
Sign the petition, if you haven't already done so. You can stop by our Boise office (the Les Bois Park Turf Club) from 11:00 to 11:30am or 6:30 to 7:00pm each day to sign a petition. You must be a registered Idaho voter, and the address you provide on the petition should exactly match the address associated with your voter registration.
Gather signatures by getting friends, neighbors, and family to sign the petition. To help in this way, call our volunteer hotline at (208) 297-5295, or sign up on our website. We can provide you with all the info and training you need to fill this critical role (and make sure you're complying with the signature gathering rules).
It should be noted that we are facing opposition. The Coeur d'Alene Tribe's political action committee has hired blockers — people who tail our petition circulators by car and on foot, surround them on the streets, and verbally harass and intimidate voters. The press has given some media attention to this issue, but opponents continue to employ these unethical bullying tactics to prevent the issue from getting on the ballot and allowing Idaho voters to have their say in November.
To get the facts about the ballot initiative or to read the initiative language, visit our web site, saveidahohorseracing.com.
Thanks,
Harry Bettis
Larry Williams
Linda Yanke
Robert Rebholtz
John Sheldon