RACING THIS WEEK
FEATURES
SERVICES
Sandy Downs will open their 2018 live racing season Friday with Bitterroot Futurity and Derby trials and advance wagering on Saturday's Belmont Stakes(G1).

© Idaho Falls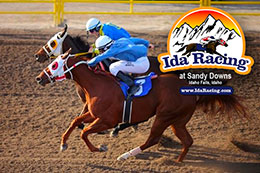 Sandy Downs Live Racing Season Opener Set Friday, Belmont Stakes Advance Wagering Available
IDAHO FALLS, ID—JUNE 7, 2018—
Sandy Downs, the home track of IdaRacing opens their live racing season on Friday (Jun 8) with advanced wagering available on the on the 150th running of the Belmont Stakes – the coveted third-leg of the Triple Crown while also attending and betting on live racing at the track.
The Idaho racetrack will feature Friday night racing this year with gates opening at 5pm (PDT) and live racing beginning at 6pm (CDT) sharp.
Eight high-stakes races are expected for the opener with the Idaho Quarter Horse Racing Association's premiere Bitterroot Futurity and Derby trials (see related story).
More than 100 2-and-3-year-old Quarter Horses hauling in from all across the Intermountain West to Idaho Falls for a chance to qualify in the top-ten to return for the finals of an estimated $126,725 in purse money on June 22nd at Sandy Downs.
With the large number of horses hauling in, horsemen are encouraged to book rooms early due to availability and other events happening in Idaho Falls.
The LaQuinta Inns & Suites is a proud sponsor of IdaRacing and are offering discounted rooms subject to availability with promo-code IDARS1. Horsemen, track officials and staff are being asked to get licensed early on Friday (Jun 8) by the Idaho State Racing Commission. The office will open at 1pm (PDT) near the Sandy Downs grandstands.
Great crowds are expected to attend this season opener and great weather with mild temperatures are forecast. Live racing at Sandy Downs combined with the excitement of the Belmont Stakes advanced wagering should make for an exciting evening.
Saturday's event will feature the popular duo of Dan & Heather's live music and fun for the whole family with the Colt Whitmore Show in between races.
There are fun bounces for the kids, many giveaways, free betting vouchers and free kids dogs (while supplies last) as well as good eats and ice cold beverages all evening-long for the non-stop trackside party.
New entertainment this year will also include the Indian Outlaw Fritz Harris to keep the laughter meter high for kids and adults alike. Friday night action will also include exciting relay racing from the Sho-Ban Indian Relay Association. Track swag and free branded merchandise as well as Filly Friday Date Night passes will also be given away at the admission booth. Gates open at 5pm (PDT).
Fans are reminded to come early and BET early to avoid being shut out at the windows. Post times listed are when the horses actually leave the starting gate beginning with the first race.
The 2018 live racing schedule at Sandy Downs will be as follows:
Special First Post on June 8th 6:00 pm MT
Post time on June 22th 6pm MT
Post time on July 4th 1pm MT
Post time on July 6th 6pm MT
Post time on July 13th 6pm MT
Post time on July 20th 6pm MT
IdaRacing would like to thank the City of Idaho Falls and the Parks & Recreation Department for their ongoing efforts to enhance and continually upgrade the Sandy Downs Event Center. There have been some major renovations to the facility this year and construction continues. "We appreciate our fans understanding," track officials said.
IdaRacing also thanks the many sponsors who make racing possible in the community with special mention to the corporate sponsors who really make a difference by supporting racing that has long-standing family history & tradition in the west.
They include Sand Hill Media, Hawthorne Animal Hospital, TEC Distributing & Coors Light, The Dakri Bernard Realty Group, LaQunita Inns & Suites, Bank of Idaho, Ameri-Title, BBSI, Bell Financial Group, the Eastern Idaho Horseman's Association, and the Post Register. Also thank you to Coeur d'Alene Racing and IdaBet.com for supporting live horse racing and purse funding in Idaho.
CLICK HERE for a complete listing of all sponsors at IdaRacing.com.
* * * * * * * * * * * * * * * * *
Sandy Downs is located on East 65th Street in Idaho Falls. For further information visit IdaRacing.com or call 208-745-8433. If you can't make it to the track, watch the races from the comfort of your own home and wager online with IdaRacing.com or by phone toll-free at 877-782-9994.
Fans can open an account by logging onto IdaRacing.com or calling the Phone bet number. The service is available in all states where online betting is permitted. Players earn IdaRewards - a daily cash back program for most bets, premium monthly rewards, easy access to extensive information to handicap the races and exceptional personalized service.
IdaRacing.com is licensed in Idaho, regulated by the Idaho State Racing Commission and the Oregon Racing Commission and is a service of eBet Technologies and owned by Idaho-based Intermountain Racing & Entertainment, LLC. IdaBet sustains live racing with horsemen purse funding and is a proud sponsor of IdaRacing at Sandy Downs.