RACING THIS WEEK
FEATURES
SERVICES
Bob Moore Farms released their summer edition e-magazine today.

© Amanda Glidden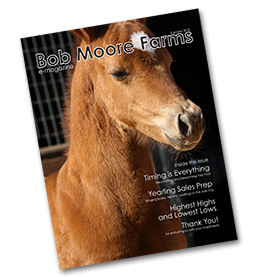 Bob Moore Farms Releases E-Magazine Summer Edition
NORMAN, OK—JUNE 8, 2018—
Bob Moore Farms is pleased to release their summer edition e-magazine. The flipbook style magazine is a twist on the traditional newsletter with added stallion information and staff editorials.
"Not only do we aim to inform our readers of what's happening at the farm, but we also hope to entertain with history and breeder education." Said general manager Phillip Stewart.
CLICK HERE to view Bob Moore Farms' Summer Edition e-magazine.
Inside this June Issue:
Timing Is Everything: Vaccinating and deworming your foal
Yearling Sales Prep: Bringing broke, healthy yearling to the sale ring
Highest Highs and Lowest Lows: Reflecting on recent losses
Thank You: for entrusting us with your investments
Bob Moore Farms has been a reliable name in the Quarter Horse racing industry for over 50 years. Specialized reproduction, stallion management, and sales preparation are among the list of services provided by the Norman, Oklahoma breeding facility.
The current stallion roster includes Docs Best Card, FDD Dynasty, and Hes Relentless. For more information on Bob Moore Farms, call 405-329-8571 or visit bobmoorefarms.com
.