RACING THIS WEEK
FEATURES
SERVICES
The American delegation, pictured with members of the Criadores Argentinos de Caballos Cuarta Milla at the Palermo Racetrack in Buenos Aires.

© Sann Suarez / AQHA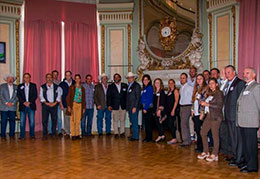 Horsemen Look To Create Official Quarter Horse Racing In Argentina
AMERICAN QUARTER HORSE ASSOCIATION—NOVEMBER 30, 2018—
Representatives from AQHA this week traveled to Argentina and met with the newly formed Racing Committee of the Criadores Argentinos de Caballos Cuarto de Milla in an effort to jump start official Quarter Horse racing in the country.
Among those attending the historic meeting in Buenos Aires, Argentina, were AQHA President Dr. Jim Heird, Executive Committee member Butch Wise, Chief Racing Officer Janet VanBebber, Chief International Officer Dr. Anna Morrison and AQHA Director Vince Genco.
The horsemen sat down together to help the Argentina affiliate in its goal to establish AQHA recognized Quarter Horse races in its country.
"There was excitement in the air, and I am very optimistic that our meetings, suggestions, and guidelines will pave the way for official races to be conducted in Argentina," said VanBebber. "I was honored to participate in the meetings, and am very excited about what is on the horizon."
AQHA currently records results from eligible, drug-tested races at Jockey Club de Sorocaba in Brazil.
* * * * * * * * * * * * * *
AQHA News and information is a service of the American Quarter Horse Association. For more news and information, follow @AQHARacing on Twitter, watch the AQHA Racing Newscast and visit aqha.com/racing.