RACING THIS WEEK
FEATURES
SERVICES
StallioneSearch's December Film of the Month: QH Racing Partnership is now available.

© StallioneSearch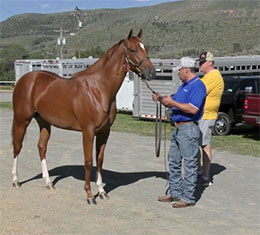 Film Of The Month: QH Racing Partnership Film Part 2 (VIDEO)
DALLAS, TX—DECEMBER 3, 2018—
StallioneSearch.com releases the Film Of The Month series of short films being sponsored by Horse Logic on Stallionesearch.com, as well as on Facebook.
The installment for the month is a second part of a multi-part series where StallioneSearch.com's resident film maker, Greg Thompson, explores the dynamics of setting up a hypothetical Quarter Horse racing partnership called Millionaire 2B Partners.
In the hypothetical setting, a 10-way partnership is formed to purchase four different yearlings, from four different yearling sales in 2018 with a bankroll of $100,000. Hall of Fame trainer Russell Harris, and retired Thoroughbred trainer Hal Wiggins make cameo appearances throughout the series.
CLICK HERE to view December's Film Of The Month: Making Of A Quarter Horse Partnership Part 2
Horse Logic is a nutritional supplement company, offering a wide array of equine products that can be shipped directly to your barn or stable. A product-line that is trusted by horse professionals from all over the nation, Horse Logic Professional is being endorsed by some of the leaders in the racing industry. Visit Horse Logic at horselogicpro.com/racing.