RACING THIS WEEK
FEATURES
SERVICES
Tammy Johnson was the first trainer to arrive with horses for the upcoming 2019 season, as Remington Park opened the barn area this morning.

© AQHA Racing / Andrea Caudill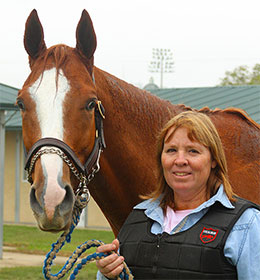 Tammy Johnson Is First To Arrive With Horses On Initial Day Of Stable Access At Remington Park
OKLAHOMA CITY, OK—FEBRUARY 4, 2019—
In what has become an annual occurrence at Remington Park, trainer Tammy Johnson is again the first to arrive and bring horses into the stable area.
Today is the first day for trainers to stall horses in anticipation of the upcoming 2019 American Quarter Horse, Paint and Appaloosa Season.
Johnson passed through the Remington Park stable gate at 12:04am with 10 horses after a six-hour journey from her farm in Gatesville, Texas. She plans to have 19 horses comfortable in their stalls here after another trip from her home base, about 30 miles west of Waco, Texas.
Johnson has been the first trainer with horses to arrive on the first day at Remington Park for three consecutive years (2017-2019). Her operation has found great success in Oklahoma City in recent seasons, including stakes wins in 2018 with Rock About It in the SLM Big Daddy Stakes and Jess A Hilbily Bone in the Pauls Valley Stakes, then a Grade 3 race, going around the turn at 870 yards. The Pauls Valley Stakes is slated to be a Grade 2 event for the upcoming season.
Jess A Hilbily Bone, trained by Tammy Johnson, wins the 2018 Pauls Valley Stakes at Remington Park.
© Dustin Orona Photography
Johnson posted eight wins, 13 seconds and 8 third-place runs from 60 starters at Remington Park in 2018 with total earnings of $220,929.
The 2019 Remington Park Quarter Horse Season begins on Friday, March 8 and continues for 50 dates, through Saturday, June 1.
Remington Park is always open for casino gaming. Simulcast horse racing is offered daily. Admission, parking and valet parking are always free at Remington Park. Guests must be 18 or older in order to wager on horse racing or to enter the casino.
* * * * * * * * * * * * * * * * *
Tracked by more than 149,000 fans on Facebook and more than 9,800 Twitter followers, Remington Park has provided more than $213 Million to the State of Oklahoma general education fund since the opening of the casino in 2005. Home to the historic Grade 2 Oklahoma Futurity, to be run for the 78th time on March 23, 2019, Remington Park is located at the junction of Interstates 35 & 44, in the heart of the Oklahoma City Adventure District. For more information, reservations and group bookings please call 405-424-1000, 866-456-9880 or visit remingtonpark.com.