RACING THIS WEEK
FEATURES
SERVICES
This month's AQHA.com Blog by AQHA Chief Racing Officer Janet VanBebber has been reposted Courtesy AQHA.

© Christine Hudson / TRACK Magazine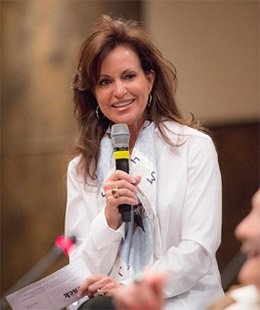 Let's Talk About What We're Doing Right
By Janet VanBebber
Chief Racing Officer AQHA
AMERICAN QUARTER HORSE ASSOCIATION—MAY 7, 2019— Our racing industry has certainly seen its share of controversies lately. When covering the Kentucky Derby disqualification, an article in the New York Times opens with a statement, "This has not been horse racing's finest hour." Another called it a "Black eye for horse racing."
Friends, I'm here to tell you there is good news in the recent headlines featuring our Thoroughbred counterparts that most people fail to emphasize. Our industry is indeed doing more things right than it is getting credit for!
Let's start with trainer Richard Mandella's decision to scratch morning-line favorite Omaha Beach. In an age where horsemen are often berated as money-hungry scoundrels, the Thoroughbred racing Hall of Famer chose to give up an opportunity to capture an elusive Kentucky Derby win, opting instead to put his horse's needs first. This is animal welfare at its finest! Taking care of the athlete, getting him the (already successfully completed!) surgery required to make him feel better, all because it was the right thing to do for the horse. Kudos, Mr. Mandella.
I would also like to share my perspective of the now infamous disqualification. I am a member of the Board of Directors for the Racing Official Accreditation Program, and I attended the school that accredits the stewards.
Globally, there are two methods stewards use when evaluating interference:
In the European model of regulation, the decision is based on, "Did it affect the outcome of the race? Did the best horse win?"
In the United States, our objective is to determine, "Did the interference impede the progress of another horse?"
By the rules our stewards are given, I think they made the right call – albeit, a very tough one to make. Yes, it took a long time, but there was a lot on the line. Not only was their ultimate decision in line with the rules and regulations, but it made a strong statement about our industry's stance on horse and human welfare. Those horses were dangerously close to clipping heels, and disaster could have easily ensued. The rules are designed to protect everyone's safety, and disregard for the rules results in action. This is much like an unnecessary roughness call in football – and I bet New Orleans Saints fans wish there was a replay review opportunity when the officials missed making a vital call in their season-ending playoff game!
Let's step back for a moment and look at what else our industry is doing right. The motive for regulation of medication is to deter cheaters from gaining an unfair advantage, and to keep our animals safe. Our 2018 testing procedures have a 99.4 percent pass rate – a rate similar to the United States Anti-Doping Agency's figures for 2017 (which, as of this writing, are the most recent available). This suggests that we are already doing as good a job as they are proposing we aspire to – and in fact, we are doing better in the timely reporting of the data.
We understand that motivation for federal authority is interstate gambling afforded by simulcast wager, and wanting that aspect regulated in a uniform matter. At present, 94 percent of pari-mutuel handle is regulated under the Controlled Therapeutic Substance List. It's important to note that the list was created with the assistance of the specialized racing expertise of the Scientific Advisory Committee of the Racing Medication and Testing Consortium. So, again, we're achieving more uniformity than most realize, and those regulations are determined by people well versed in our industry.
So, what must we do now? It is imperative we take the next steps. Now is the time for us to join together as horsemen and be unified to support our industry.
H.R. 1754, the Horse Racing Integrity Act, proposes federal oversight of horse racing. We have a number of concerns about the proposal. We are concerned there will be an unreasonable economic burden to pay for the regulatory measures proposed, which could be particularly detrimental to smaller jurisdictions. We are concerned that there may be no opportunity for breed-specific rules. We are concerned that they are not prepared to implement the massive undertaking of racehorse testing (in 2018, USADA performed approximately 12,000 tests on human athletes, compared to more than 260,000 tests done in horse racing). Finally, the most grave of our concerns: the abolishment of race-day therapeutic medication, which would include the anti-bleeding medication furosemide, commonly known as Lasix.
To defend our stance against this piece of legislation and potential legislation in the future, each state jurisdiction must adopt all aspects of the National Uniform Medication Policy.
AQHA has been very supportive of each state's rights, but because we are not uniformly enforcing our rules and regulations, we are very concerned that this bill could potentially pass if we do not work together to save our sport.
I have already contacted jurisdictions with more information about this policy, urging them to adopt it. While most jurisdictions have adopted at least part of the National Uniform Medication Policy, I encourage you as horsemen to contact your respective jurisdictions and encourage them to adopt this fully if they haven't already.
Failing to do so could lead to our own demise.
The threat of oversight by individuals who know little about our industry concerns me. I hope it concerns you enough to join us to take action. Friends, if we don't do it now, our future will be in the hands of the federal government. Are you comfortable with that?
I hope you will join me in spreading the good news. We need to be ambassadors for our industry, and make people aware of what we are doing well!
* * * * * * * * * * * * * *
AQHA News and information is a service of the American Quarter Horse Association. For more news and information, follow @AQHARacing on Twitter, watch the AQHA Racing Newscast and visit aqha.com/racing.