RACING THIS WEEK
FEATURES
SERVICES
Funeral services were conducted in Lewiston, Idaho on Friday for longtime horseman Earl Pepper.

© Mountain View Funeral Home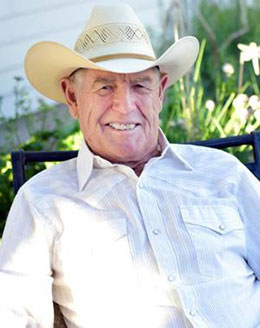 Funeral Services Held Friday for Longtime Horseman Earl Pepper
LEWISTON, ID—AUGUST 10, 2019—
Funeral services were held Friday for Earl Pepper, 81, of Lewiston, passed away at home Monday (Aug 5), knowing he had a great life and was so loved by his family and many friends.
Earl was born Feb. 7, 1938, in American Falls, Idaho, to Ned and Maleta Pepper.
He graduated from high school in Salmon, Idaho, in 1955. That summer, he started working for the Bureau of Public Roads, a job he worked in for 38 years, plus two years saved-up sick leave days.
His job took him to many different places. In 1956, he started working on the Lewis-Clark Highway between Kooskia and Lolo, Mont. He would like the record to show he and Henry Gini pulled their house trailers by a caterpillar tractor through an unfinished road to reside at Pete King Creek until the completion of the highway.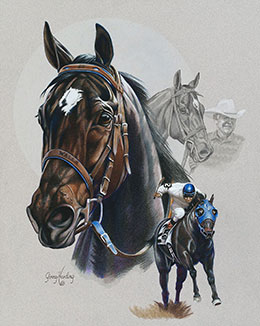 Earl Pepper with his beloved multiple regional champion Bedazoom.
© Ginny Harding
On May 10, 1957, he married Lucille Johnson, from Kooskia. They lived in Alaska, Oregon, Washington, California and Idaho until he retired in 1995, and they bought a place in Tammany.
Earl took great pride in their property, with many people commenting "your fields look like a golf course." His dream in retirement was to raise and race quarter horses, and he did this for 20 years. Their horses won many races, with two of them receiving the honor of being named the Quarter Horses of the Year.
Earl put his heart and soul into racing. The Northern Quarter Horse Association presented him with an award for all his dedication to the racing association.
Earl loved attending rodeos, especially the National Finals Rodeo in Las Vegas every year. He loved to hunt and fish, and enjoyed attending Lewis-Clark State College basketball games, watching Gonzaga basketball and spending time with his family and friends. Earl was a life member of the Elks Club and a member of the Moose Lodge.
Earl is survived by his wife of more than 60 years Lucille; children Patty (Tim) Switzer and Kenny (Michelle) Pepper; grandchildren Hannah and Neil Switzer, and Alicia (Adam) Darr and Erika Pepper; great-grandchildren Isla and Grady Darr; and Earl's younger brothers, Don and Dennis Pepper.
The family would like to thank the St. Joseph Family Hospice for its care during these past few months.