RACING THIS WEEK
FEATURES
SERVICES
Trainer Jimmy Padgett and Fly Baby Fly after winning the 2017 All American Futurity (G1) at Ruidoso Downs.

© StallioneSearch / Greg Thompson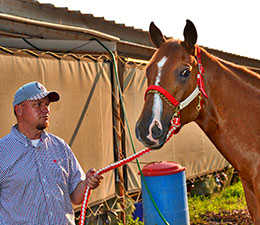 All American Futurity (G1) Winner Fly Baby Fly Retires
By Greg Thompson, StallioneSearch RUIDOSO, NM—AUGUST 12, 2019—
The 2017 All American Futurity(G1) winning filly, Fly Baby Fly, was retired from racing today, according to co-owner Benny Jeter.
The One Famous Eagle filly, with jockey Jose Alvarez aboard, pulled a mild upset on Labor Day of 2017 as they both crossed the wire as the victor in that year's edition of the $3-Million All American Futurity(G1) at Ruidoso Downs. The filly would return to Ruidoso in 2018, and was a runner-up finisher to champion Hotstepper in the All American Derby(G1).
Owned by the Fly Baby Fly Partnership, the filly was a $180,000 Ruidoso Select Yearling Sale purchase in 2016. She was a winner of three-races in 11 lifetime starts, and has career earnings of $1,813,957. Benny and Terri Jeter co-owned the filly in partnership with Dena Todd in the Fly Baby Fly Partnership.
She was in Ruidoso training for the upcoming $200,000 All American Gold Cup, but re-chipped the knee that she had required surgery to repair early in the year after a workout leading up to the Labor Day weekend event.
"She has meant the world to us," said co-owner Benny Jeter. "She is no longer a racehorse, but I am sure she will always remain a racehorse in her heart. She's been a once-in-a-lifetime horse, and we would be supremely bless to own another horse that is anything close to the runner she is today."
Throughout her career, the filly out of the Walk Thru Fire mare Higher Fire, has had three trainers, but it was trainer James "Jimmy" Padgett II that conditioned her to her greatest career triumph in the All American Futurity(G1).
"Fly Baby Fly has been just an amazing filly to train," said Padgett. "Her heart is as big as she is, and I have been so fortunate to have her in my barn for as long as I've had her. I really wish her and the partners that best with her future as a broodmare, and I look forward to hopefully training her babies in the future."
Fly Baby Fly will enter into a career as a broodmare since the announcement of her retirement. Prior to her return to racing in 2019, the 4 year-old filly was bred twice and has produced three embryos from sires FDD Dynasty and RC Me Leaving You.