RACING THIS WEEK
FEATURES
SERVICES
The latest AQHA Racing Polls do not feature any major movement.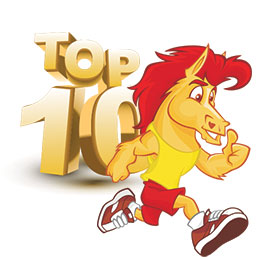 Minor Changes To Final AQHA Racing Polls of Summer, Fall Championship Season Picks Up
AMERICAN QUARTER HORSE ASSOCIATION—SEPTEMBER 26, 2019—
The calendar has changed over from summer to fall, but the latest AQHA Racing Polls do not feature any major movement, as Apocalyptical Jess continues to lead the older horse rankings and Mr Jess Jenkins again topped the 2-year-old poll.
While Apocalyptical Jess, last year's champion 2-year-old gelding and winner of this year's Ruidoso Derby (G1), held the No. 1 spot in the older horse poll, the gap has narrowed between him and No. 2-ranked Rustys Miracle. The latter scored in the All American Derby (G1) at Ruidoso Downs on Labor Day Weekend and trails Apocalyptical Jess by just two points in the latest poll. The poll did welcome a newcomer this week, as Mi Amor Secreto, winner of the $300,000 Albuquerque Fall Championship (G1) on September 22, debuted at No. 9.
In the 2-year-old poll, All American Futurity (G1) winner Mr Jess Jenkins remained clear of No. 2 Uncle D, winner of the Rainbow Futurity (G1), and No. 3 Mister Riptide, runner-up in the All American. The only new face in the juvenile poll was One Flying Dynasty, who came in at No. 10, after taking the $245,946 La Fiesta Futurity this past weekend at Albuquerque Downs.
October figures to bring changes to the polls, with numerous graded stakes set for the first half of the month at tracks including Los Alamitos, Lone Star Park and Zia Park, and then on October 26 Albuquerque Downs will host the Bank of America Challenge Championships.
NATIONAL RANKINGS, 3-YEAR-OLDS AND OLDER
APOCALYPTICAL JESS (78)
RUSTYS MIRACLE (76)
EAGLE COAST (60)
POWERFUL FAVORITE (51)
POLITICAL ATTRACTION (50)
BH LISAS BOY (44)
APOLLITICAL PENCE (28)
CDS WINE N DINE (23)
MI AMOR SECRETO (20)
KATIES EASY MOVES (16)
JESS MACHO CORONA (9), DANJER (6), TEQUILA SANGRIA (6), JESS SAYING (5), LD IS BACK (4), AS AND JS (3), EYE N CAPO (3), HE LOOKS HOT (3), SASSY ON FIRE (3), FIRST LADY PERRY (2), FLYING COWBOY 123 (2), ZOOMIN FOR SPUDS (2), CONQUERING MARIE (1).
NATIONAL RANKINGS, 2-YEAR-OLDS
MR JESS JENKINS (87)
UNCLE D (79)
MISTER RIPTIDE (66)
UPTOWNE BABE (54)
FERNWEH (51)
TRUMP MY RECORD (44)
EC REVENGE (26)
DETERMINED ONE (16)
RUNAWAY SECOND DOWN (14)
ONE FLYING DYNASTY (9)
PERRYS SECRET (6), CERS FINAL TRY (5), EXPEDYTE (5), HONKY TONK DADDY (5), DONELLI (4), EASY BLINKERS (3), RELENTLESS DYNASTY (3), TF SHEZ JESS DASHIN (3), COLBY JAMES (2), MISTER MUCHO GUSTO (2), DF MISCHIEVIOUS JESS (1), MR DILLARD (1), SIR RUNAWAY CASH (1).
* * * * * * * * * * * * * * * * *
The integrity of American Quarter Horse racing is of utmost importance to AQHA. As part of a multifaceted effort to ensure integrity, AQHA has instituted a policy concerning awards and publicity that makes horses with racing medication positives and horses trained by trainers with racing medication positives ineligible for the AQHA Racing National Polls. CLICK HERE to read the complete policy.
* * * * * * * * * * * * * *
AQHA News and information is a service of the American Quarter Horse Association. For more news and information, follow @AQHARacing on Twitter, watch the AQHA Racing Newscast and visit aqha.com/racing.