RACING THIS WEEK
FEATURES
SERVICES
Late consignments are due Friday for the 2020 Heritage Place Winter Mixed Sale.

© Heritage Place Sale Company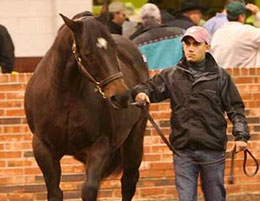 Entry Deadline For 42nd Annual Heritage Place Winter Mixed Sale Extended To Friday
OKLAHOMA CITY, OK—NOVEMBER 4, 2019—
Entry deadline for consignments to the 42nd Annual Heritage Place Winter Mixed Sale has been extended through Friday, November 8th.
This sale, scheduled for January 17-18, 2020, highlights stallions, mares, yearlings, horses of racing age, in-foal broodmares, recipient mares in foal to top stallions.
"We are looking forward to another outstanding catalog for 2020," Spence Kidney, Heritage Place Sale General Manager said this week. "We urge horsemen to get their consignments in this week."
The industry's largest grossing mixed sale, more than $7.1 Million last January, is paired with the announcement of the 2019 AQHA Racing Champions.
"The combination of the Winter Mixed Sale and AQHA Champions Announcements always draws a big crowd to the facility, it is a must attend event for many in the industry," Heritage Place General Manager Spence Kidney said.
Nomination forms to the 42nd Annual Heritage Place Winter Mixed Sale are now available at the company's website CLICKING HERE.
The consignment fee for entries received by Friday (Nov. 8) is $650. Paperwork MUST be in the Heritage Place office by these dates, NOT postmarked.
For additional information call 405.682.4551.