RACING THIS WEEK
FEATURES
SERVICES
SERF combines the highest quality services with state of the art equipment to provide horses with the best care.

© Courtesy SERF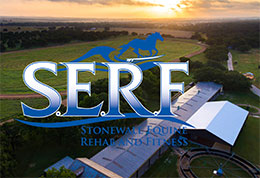 Stonewall Equine Rehabilitation and Fitness (SERF) Offers Innovative Services
By Martha Claussen
STONEWALL, TX—JANUARY 10, 2020—Horsemen looking for state-of-the art care and rehabilitation services for their racing and performance horses have a tremendous resource.
Located in Texas' Hill Country, 13 miles east of Fredericksburg, Stonewall Equine Rehabilitation and Fitness (SERF) is on the sprawling property founded by the late Joe Kirk Fulton. One of the most respected breeders and owners in the Quarter Horse industry, Fulton's widow, Merle joined forces with Kurt W. Harris, DVM in the creation of SERF.
Opened in the Spring of 2016, their goal was to raise the bar in rehabilitating horses back to a performance level as safely and quickly as possible.
Harris, who was a veterinarian in practice for over 30 years, was skilled in surgery, reproduction and embryo transfers, but had a special interest in diagnosis and treatment of lameness.
Dr. Kurt and Merle Harris owners of Stonewall Equine Rehabilitation and Fitness.
© Courtesy SERF
"There have been incredible advances in veterinary medicine over the last 20 years," stated Harris. "But there is a need in our industry to focus on rehabilitation and prevention of equine injuries."
Harris and his staff of eight oversee a plan for each horse and have spared no expense in acquiring the most innovative equipment to facilitate rehabilitation and recovery. Following surgery, there can be a period of 60 days of inactivity. By utilizing the following services and equipment, horses can regain strength and lung capacity in a safe and timely manner.
Nautilus Equine Salt Hot & Cold Water Spa for the treatment and prevention of lower leg injuries
Hydro Horse Underwater Treadmill a water therapy treatment for conditioning and strengthening
Full Stall Vibration Plate Therapy builds muscle tone through massage
Magna Wave Pulsating Electro Magnetic Field Therapy to stimulate cell metabolism
Smart RLT Regenerative Laser promotes growth and healing of injured cells
EQultrasound a treatment for equine tendon and muscle issues
Eurociser an European designed "hot walker" for conditioning
Evaluating the many advances in rehabilitation is of the upmost importance to Harris. When horses conclude their recovery at SERF, they have benefitted in many ways from their therapy.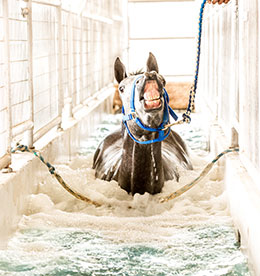 The Hydro Horse Underwater Treadmill is an equine therapy that is designed and engineered to assist in the treatment and prevention of lower leg injuries and disease.
© Courtesy SERF
"The Vibration Plate is just one example of a therapy offered at SERF," Harris explained. "It can be used immediately following surgery, while they are still confined to stall rest. It stimulates muscle mass, blood circulation and hoof growth. When they leave our facility and return to their trainer, they are in better overall shape," said Harris.
There is also a 46-stall barn and training facility with a 5/8 mile racetrack as well as a performance arena for clinics and a variety of events including roping, reining and barrel competition.
Both Merle and Kurt have a true passion and love for horses. They are extremely proud of Trump My Record, a Fulton Quien Sabe Ranches homebred, who won three futurities in 2019 and is one of the top contenders for 2019 AQHA 2-year-old colt honors and Hotstepper, 2018 World Champion 3-Year-Old Gelding and All American Derby winner. But they also follow their rehabilitated athletes as they return to competition.
The Smart RLT has been scientifically validated to regenerate tissue and healing in tendons, ligaments, soft tissue, fractures, wounds, tears and more.
© Courtesy SERF
"We get tremendous satisfaction from caring for a horse following surgery, getting them healthy and strong and back to work," said Harris.
Their business is growing rapidly, with clients from all over the United States and Mexico, but the commitment to quality evaluation and care will not be compromised as they head into the future.
"As we move forward, we want to continue to educate owners and trainers on preventing equine injuries," said Harris. "We genuinely appreciate the support of veterinarians who refer to us and will continue to offer 24-hour a day attention to each horse in our care."
* * * * * * * * *
FACT BOX:
Stonewall Equine Rehabilitation and Fitness (SERF)
485 Fulton Ranch Road
Stonewall, TX 78671
Phone: (830) 644-2001
Website: stonewallequinerehab.com.
* * * * * * * * *
Martha Claussen served as publicity director at Sam Houston Race Park for ten years. She continues to be active in writing and racing publicity in Texas, Louisiana, Indiana, Oklahoma and other regions in North America.