RACING THIS WEEK
FEATURES
SERVICES
Officials say unsanctioned "bush tracks" like this one contributes to the spread of EIA and piroplasmosis in U.S. horse populations.

© Courtesy Park County Texas Sheriff's Office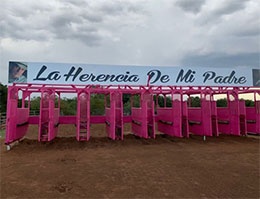 Nine Indicted In Illegal Texas Horse Racing Ring
FORT WORTH, TX—JANUARY 10, 2020—
A grand jury has indicted nine people for operating an illegal horse racing meet near Fort Worth, Texas. Animal health regulators report that illegal racing at so-called "brush tracks" is associated with the spread of serious horse diseases, such as equine infectious anemia and piroplasmosis, and puts horse welfare at risk.
Last October the Parker County Sheriff's Office assisted the Texas Department of Public Safety Criminal Investigations Division, the Texas Animal Health Commission, and several others to investigate a bush track in Springtown.
According to Sgt. Deputy Danie Huffman, Parker County Sheriff's Office public information officer, the agency was called to investigate alleged violations of the state's Horse Racing Act. The subsequent probe revealed most of the horses and jockeys were in direct violation of the state's Horse Racing Act by racing twice in the same weekend.
Officials also found several syringes allegedly containing illegal substances used to increase a horse's racing performance and related drug paraphernalia at the scene, she said.
Last month, a Parker County grand jury indicted Jessica Judith Davila, Yesenia Garza, Blanca Gonsalez, Edgar Valentin Mendoza, Juan Francisco Renteria, Ever Noruf Rodriguez-Rodriguez, Pablo Erasmo Solis, Ivan Raymundo Suarez, and Alonso Venzor in connection with the illegal horse racing operation.
Parker County Assistant District Attorney Jeff Swain said that, if convicted, each of those indicted could face penalties of two to 20 years in prison and fines up to $10,000 for every count of conducting a horse race without a license.