RACING THIS WEEK
FEATURES
SERVICES
Tickets are available for the annual PCQHRA Awards Banquet to be held Thursday, January 23 in the Finish Line Room at Los Alamitos Race Course.

© Scott Martinez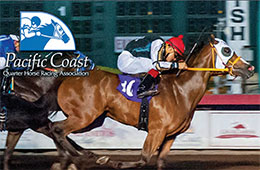 2019 PCQHRA Awards Banquet Set For Thursday, January 23
LOS ALAMITOS, CA—JANUARY 12, 2020—
The Pacific Coast Quarter Horse Racing Association will hold its annual awards banquet in the Finish Line Room at Los Alamitos Race Course on Thursday, January 23.
The festivities will commence with a cocktail hour starting at 6 p.m. followed by dinner at 7 p.m. and the awards presentation starting at 8 p.m. (PST).
Ed Burgart and Michael Wrona will co-host the banquet, which annually honors Quarter Horse racing excellence in California. He Looks Hot, Powerful Favorite and Cartel Jess Rockin are among the top contenders for top honors. ).
Awarded to the most outstanding horse in California, the PCQHRA Horse of the Year title has gone in recent years to Jesstacartel in 2018, J Fire Up in 2017, Zoomin For Spuds in 2016 and Heza Dasha Fire in 2015. Dash For Cash was the original recipient of this award back in 1977. ).
Ten divisional awards are presented to the top horses racing in California. In addition, the PCQHRA honors 11 leading money-earning Cal-bred horses by division. ).
Other awards include Three Bars Award given to the top stallion standing in California; James V.A. Carter Award to the top Broodmare; Moonist Award; Most Improved Quarter Horse Award; Outstanding Achievement in Northern California Fairs; Val Tonks Memorial Award presented to a deserving up and coming rider; Jockey, Trainer, Owner and Breeder of the Year; Special Achievement Awards to a Jockey, Trainer, Breeder and Owner; the Frank Vessels Sr. Memorial Award presented in appreciation of an outstanding contribution to the sport of Quarter Horse racing; and the Sam Thompson Award which honors an individual who displays leadership within the Los Alamitos racing community. ).
Tickets to the PCQHRA Awards Banquet are still available by calling 714-236-1755.
* * * * * * * * * * * * * *
Courtesy of www.losalamitos.com.