RACING THIS WEEK
FEATURES
SERVICES
Snow and sub-freezing temperatures forced a snow day for all horses and horsemen at Remington Park today (Wednesday).

© Dale Day / Remington Park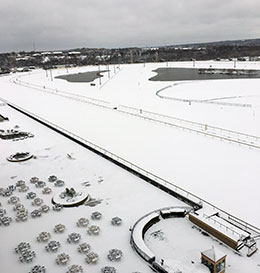 Winter Storm Cancels Training at Remington Park
OKLAHOMA CITY, OK—FEBRUARY 5, 2020—
Winter weather forced cancellation of training hours today at Remington Park. Approximately 4-5 inches of snow, along with sub-freezing temperatures, forced the snow day for all horses and horsemen.
Morning training is expected to resume later this week once the cold weather gives way to warmer conditions. Normal training hours at Remington Park take place from 7-11am.
The 2020 live racing season at Remington Park is underway on March 6 at 6pm. The Opening Weekend also features trial racing for the historic Oklahoma Futurity on Saturday, March 7 at 4pm, and Sunday afternoon racing at 1:30pm on March 8.
* * * * * * * * * * * * * *
Remington Park is always open for casino gaming. Simulcast horse racing is offered daily. Admission, parking and valet parking are always free at Remington Park. Guests must be 18 or older in order to wager on horse racing or to enter the casino.
Tracked by more than 161,000 fans on Facebook and more than 10,100 Twitter followers, Remington Park has provided more than $240 Million to the State of Oklahoma general education fund since the opening of the casino in 2005. Located at the junction of Interstates 35 & 44, in the heart of the Oklahoma City Adventure District, Remington Park will host the 2020 American Quarter Horse, Paint and Appaloosa Season from March 6 through May 30. For more information, reservations and group bookings please call 405-424-1000, 866-456-9880 or visit remingtonpark.com.