RACING THIS WEEK
FEATURES
SERVICES
Mewly-retired Los Alamitos track announcer Ed Burgart will appear on the StalliioneSearch.com Podcast "QH Racing Talk With Greg and Freddy" on Wednesday.

© Greg Thompson / StallioneSearch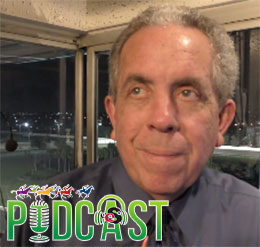 QH Racing Talk Podcast: Ed Burgart Episode Premieres Wednesday
DALLAS, TX—MARCH 23, 2020—
StallioneSearch.com continues its newest format of Quarter Horse racing news with the release on Wednesday of episode 4 of the new podcast talk-show on StallioneSearch entitled "QH Racing Talk With Greg and Freddy."
Episode 4 on StallioneSearch will feature a discussion with legendary, and now-retired track announcer Ed Burgart. The Arizona-native, who had called races for 39-years before his retirement, talks about the legendary trainers, jockeys and horses that are considered as some of the greatest of all-time in the sport of Quarter Horse racing.
To view the video preview of the upcoming podcast episode of: QH Racing Talk With Greg and Freddy, CLICK HERE.
"QH Racing Talk with Greg and Freddy" is co-hosted by Greg Thompson of StallioneSearch and Freddy Carmona of StallioneSearchesp.com. The format of the show will be designed to include special guest of Quarter Horse industry significance to participate in discussing various Quarter Horse related topics.