RACING THIS WEEK
FEATURES
SERVICES
Trainer Orlando Orozco has thirty-horses in training at Delta Downs

© Hodges Photography / Ann Switalski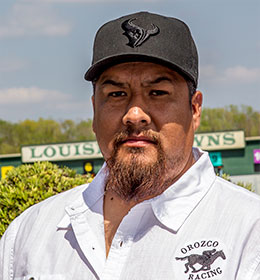 Louisiana Horsemen Joyed With Announcement of Delta Meet Opening
by Greg Thompson, StallioneSearch.com
VINTON, LA—MAY 20, 2020—With the opening day of the 2020 Quarter Horse racing meet announced for June 10th, horsemen in Louisiana are breathing a sigh of relief that plans are moving forward for the resumption of racing. The 2020 Quarter Horse meet was to have begun on April 27, but was delayed due to the COVID-19 pandemic.
Trainer Orlando Orozco, a Texas-native based in Louisiana, now has thirty-horses in training at Delta Downs in preparation for when racing resumes in June. The virus-related stoppage of racing has left many in the state of Louisiana, as well as across the country, struggling to turn a profit in this racing operations.
"Since this stoppage of racing, business has slowed a little," said trainer Orlando Orozco. "I am very grateful that I have a good group of owners that have stuck with me to see this thing through during this tough time," Orozco said.
"Since Delta has opened up their gates to allow us to move in and train, I have seen an increase on the amount of horses people are sending me and that I am picking up for the upcoming meet. It has been a rough time for everyone, and I am thankful that we are moving in the right direction. I am also thankful for LQHBA President Ryan Robicheaux and LQHBA's Bruce Salard for fighting for the horsemen to get the meet going," he added.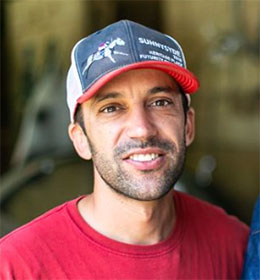 Lee Berwick Futurity(RG1) winning jockey Antonio Alberto says, 'We are just happy that the industry is back to moving forward.'
© Don Stevens
During the quarantine after the onset of the COVID-19 virus, 2019 Lee Berwick Memorial Futurity(RG1) winning jockey Antonio Alberto found himself doing just about everything around the house, aside from the usual lifestyle of earning a living at riding races.
The announcement of the June 10th start date for the 2020 Quarter Horse meet means horsemen's way of life in Louisiana can return to more of a somewhat normal existence.
"You have no idea how happy I will be to return back to a more normal existence of getting back to racing," Alberto said. "With us returning to training and now with the news of us returning to racing in early June, the morale of the backside is upbeat and positive. We are just happy that the industry is back to moving forward."
The Delta Downs Quarter Horse meet begins on June 10 and will run through August 22, 2020 in Vinton, Louisiana.