RACING THIS WEEK
FEATURES
SERVICES
Jeff and Michelle Cravens are the owners and breeders Favorite Colossus, one of the leading contenders in the $322,000 Governor's Cup Futurity on Saturday at Los Alamitos.

© Los Alamitos Race Course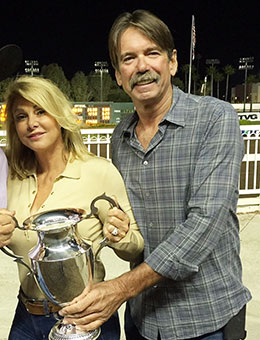 Cravens Ready To Be A Part Of Their First Quarter Horse Futurity
LOS ALAMITOS, CA—JULY 23, 2020—
An enjoyable evening experiencing all of the excitement of live racing at Los Alamitos Race Course about 10 years ago has blossomed into many truly memorable nights of thrilling Quarter Horse racing for Jeff and Michelle Cravens, the owners and breeders Favorite Colossus, one of the leading contenders in the $322,000 Governor's Cup Futurity on Saturday at Los Alamitos.
The couple's visit to the Orange County track was supposed to be just a fun outing in the company of one Jeff's longtime customers, Joe Muniz, who operated a major Southern California pipeline construction firm. Muniz, along with his wife, Jerri, were part owners of the great racehorse and tremendous stallion, Chicks Beduino.
"I've known Mr. Joe Muniz since 1984," Cravens said. "After my wife sold her business, she would say that she needed to find something new to do. Joe called us one day and invited us to come out to see his horses run. We figured we would go out and have a good time. As it turned out, we got to go the winner's circle twice at Los Alamitos. In the parking lot after the races were over and we were walking to our car, Michelle turned to me and said, 'I know what I want to do now. I want a racehorse.'"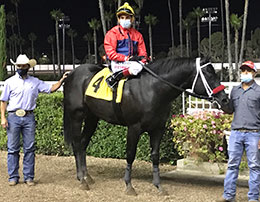 Favorite Colossus' trainer Cesar De Alba (left), was as a leading jockey at Los Alamitos.
© Scott Martinez
For the Cravens, loving horses came naturally. Jeff always loved the outdoors and had horses as young man growing up in Oklahoma. Michelle grew up with horses, cleaning stalls and enjoying barrel racing at the age of 10. In her early 20s, Michelle adopted a horse named Oliver Dandy and two years later she had turned him into a Halter champion. She would later participate in Dressage competitions before taking a step back from horses to pursue a career in the fashion industry. When Michelle sold her jewelry business, the opportunity opened for horses to return to the couple's life.
Their first horse racing victory came with the Carters Cartel filly Ya Cartel Miss in her first ever start on August 16, 2013. The filly was convincing in victory, providing the couple with their very own first memorable moment in the sport. Another unforgettable night came on October 8, 2016 in the $25,000 Autumn Handicap also at Los Alamitos when their homebred filly One Sweet Jewel scored a 19-1 upset victory against a field that included three stakes winning 2-year-olds.
Nearly seven years since their first victory as owners, the Cravens are set to be part of their first futurity final after Favorite Colossus posted the second fastest qualifying time to the 350-yard Governors' Cup Futurity to be contested on Saturday. It will also be a first futurity for Favorite Colossus' young trainer Cesar De Alba, who as a leading jockey at Los Alamitos has tons of experience in such races having scored many futurity wins on the Katella straightaway.
"We're just ecstatic," Jeff Cravens said. "And we couldn't be happier for Cesar. His dad broke some of our other babies, so we have had a great relationship with them. We have always loved Cesar and he always tries his best for us. We have only won one stakes races in our life, so it is exciting to now be a part of a futurity with the caliber of horses and people involved in this type of a race. Favorite Colossus' trial win was so close. The two horses that he beat (Cartel Legacy and Squid Word) are outstanding runners, but we had luck in that race and he got the head bob. It was so close, but I called it for our horse. My wife said, 'you're wrong,' and I said, 'Yes, we did it!' It was just such a thrill."
Sired by the outstanding Favorite Cartel, Favorite Colossus is out of Walk Thru Fire mare Warm It Up, the winner of the 2011 La Pacifica Handicap. De Alba rode against Warm It Up in that stakes race, but also piloted her to an allowance victory in her start prior to the La Pacifica. This is a family that De Alba knows well.
"We have one or two Quarter Horse babies every year," Jeff added. "I'm not a horse expert, but when Favorite Colossus was born, he had the biggest legs I've ever seen on a baby colt. He has always been calm. He never gets excited. He is the calmest horse I have ever seen. He would be on the wall for 20 to 30 minutes before he made a sound. He's always been a good boy."
The Cravens run J and M Performance Horses, a horse boarding ranch about 45 miles east of Los Alamitos Race Course. There, the couple keep saddle horses, layup horses and have conducted educational clinics in several horse disciplines. This Saturday night, however, their attention will be on Favorite Colossus and on the Governor's Cup Futurity.
"In his previous start before the Governor's Cup trials, he finished fifth in his Ed Burke (Million Futurity trial)," he said. "He showed us heart. He did not quit."
Race time is just hours away now and the Cravens cannot wait for another moment to remember.
"We are waiting on pins and needles," Jess said. "It's just so exciting."
* * * * * * * * * * * * * *
Courtesy of www.losalamitos.com.