RACING THIS WEEK
FEATURES
SERVICES
There is a unanimous choice in one of the AQHA racing polls.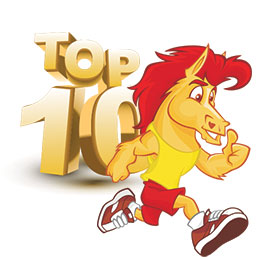 All American Winners Top AQHA Racing Polls
AMARILLO, TX—SEPTEMBER 15, 2020—
For the first time this year, there was a unanimous choice at the top of one of the AQHA Racing National Polls. Whistle Stop Cafe secured all 10 first-place votes following her victory in the $3 million All American Futurity (G1) on Labor Day at Ruidoso Downs.
One day earlier at the New Mexico track, Gold Heart Eagle V took the $1,078,098 All American Derby (G1) to earn the top spot in the older-horse rankings.
After being a nearly unanimous No. 1 in the two prior polls, Whistle Stop Cafe left little doubt that she is the top juvenile in the country after she dashed 440 yards in :21.437 to win the sport's richest race.
The gray filly by Freighttrain B is now undefeated in six starts this year with stakes wins in the Rainbow Futurity (G1) and Heritage Place Juvenile Stakes, and her 2020 earnings of $1,974,986 are more than triple that of any other horse.
Cyber Monday, winner of the Ruidoso Futurity (G1) in June, held the No. 2 spot in the poll, and Shott Gun, who took the Heritage Place Futurity (G1) in May, maintained the No. 3 position. The biggest mover in the poll was Instygator, who jumped from No. 9 to No. 4 after running second in the All American as the betting favorite.
In the older-horse poll, Gold Heart Eagle V jumped from No. 9 last time to No. 1 in the latest rankings following a 1-˝-length victory in the All American Derby on September 6. The next three runners in that race also landed in the poll with runner-up Inaugurator at No. 5, third-place finisher (and last poll's No. 1) CERs Final Try in a tie for No. 3 and fourth-place finisher Hotsempting at No. 6.
A colt by One Famous Eagle, Gold Heart Eagle V was the fastest qualifier to the race after an impressive 4-length victory in his trial.
Another top performer from Labor Day weekend at Ruidoso Downs, Dexxter, held the No. 2 spot in the poll. The 4-year-old gelding won the $125,000 All American Gold Cup (G1) on September 6 for his third Grade 1 win in as many starts this year. Ratification moved up from No. 4 in the previous poll into a tie at No. 3 after scoring the $421,326 All American Oaks, also on September 6.
NATIONAL RANKINGS, 3-YEAR-OLDS AND OLDER
1. GOLD HEART EAGLE V (83)
2. DEXXTER (78)
3. (tie) CERS FINAL TRY (70)
3. (tie) RATIFICATION (70)
5. INAUGURATOR (58)
6. HOTSEMPTING (49)
7. LOVE IS EVERYTHING V (24)
8. (tie) FERNWEH (18)

8. (tie) TELL CARTEL (18)
10. DREAMS DIVINE (14)
POWERFUL FAVORITE (12), EAGLES FLY HIGHER (9), EYSA JESS JUMPN (9), DANJER (7), LIFEINTHEFASTLANES (7), VALIANT TIBERIAS (5), SOUTHERN WAGON (4), TRUMP MY RECORD (4), CHOCOLATITO (3), JESS B GLORY (3), LIGHTEMUPWITHCHARM (3), HOOKED ON A WIN (2).
NATIONAL RANKINGS, 2-YEAR-OLDS
1. WHISTLE STOP CAFE (100)
2. CYBER MONDAY (79)
3. SHOTT GUN (63)
4. INSTYGATOR (62)
5. SAN LORENZO (60)
6. CHANCE TO EXCEL (52)
7. AINT SHE TEMPTING (45)
8. LA JACONDE (17)
9. JETTZ (13)
10. (tie) APOLLITICAL GOLD (11)
10. (tie) HES INNOCENT (11)
FOR THE IRONY (10), SHEZA FREIGHTTRAIN T (7), HOLLYN BOOTIE (6), CRUZIN CARTEL (4), MISSCANDYMOUNTAIN (3), SIR LOUISIANA DASH (3), FAMOUS AND EASY (2), EL CAMINO CL (1), FLASHING MY PJS (1).
* * * * * * * * * * *
The integrity of American Quarter Horse racing is of utmost importance to AQHA. As part of a multifaceted effort to ensure integrity, AQHA has instituted a policy concerning awards and publicity that makes horses with racing medication positives and horses trained by trainers with racing medication positives ineligible for the AQHA Racing National Polls. Read the complete policy here.
* * * * * * * * * * *
This year's poll voters are Ed Burgart, Martha Claussen, Michael Cusortelli, Mark Herron, Curtis Treece, Kelly O'Hara, John Bachelor II, Tammy Knox, David Smith and Bob Broadstock.