RACING THIS WEEK
FEATURES
SERVICES
Los Alamitos Race Course is donating $50,000 to the fundraising efforts by the horse racing community to assist injured rider Vinnie Bednar.

© Scott Martinez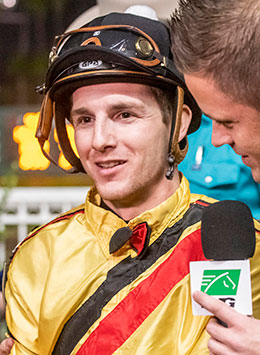 Los Alamitos Race Course To Donate $50,000 To Assist Injured Rider Vinnie Bednar
LOS ALAMITOS, CA—SEPTEMBER 13, 2020—
Los Alamitos Race Course announced on Friday that it is donating $50,000 to the fundraising efforts by the horse racing community to assist injured rider Vinnie Bednar.
The donation will be made through the Sam Thompson Memorial Foundation, a foundation dedicated to helping those in need in the horse racing community.
Anyone wishing to help Vinnie Bednar through the Sam Thompson Memorial Foundation can donate through a special page located at samthompsonfoundation.org with 100% of the money going directly to Vinnie to assist with his expenses. When donating, please earmark your donations by typing in the words, "Vinnie Bednar" or something similar. No amount is too small and please note that there are no transaction fees.
The Sam Thompson Foundation posted the following message on its Facebook page on Saturday: "The Sam Thompson Foundation set a goal to raise as much as they could to help Vinnie Bednar after his accident on the track. They have already surpassed what they imagined they could get in the first week.
Dr. Ed Allred (owner of Los Alamitos Race Course) pledged his donation on September 11th of $50,000 on top of what has been already raised and what they hope to raise in the upcoming days and weeks. This is in hope that this will help Vinnie's days to be easier ahead and allow him to focus on healing and getting better."
A professional jockey since 2011, Vinnie Bednar rode 2019 AQHA World Champion He Looks Hot to victory in the Champion of Champions last year. His recent stakes wins include the Vessels Maturity on Chocolatito on July 5, the Governor's Cup Derby with Nomadic on July 26 and the Golden State Derby aboard Circle City on August 16.
He won the Los Alamitos Invitational Championship aboard He Looks Hot last year. Bednar has piloted 607 winners across all-breeds during his riding career.
* * * * * * * * * * * * * *
The Sam Thompson Memorial Foundation is a philanthropic organization focused on the health, education, and welfare of those involved in the horse racing community. Its goal is to provide support to anyone in need in the horse racing community. For more information, please call 760 408-1199.
* * * * * * * * * * * * * *
Courtesy of www.losalamitos.com.