RACING THIS WEEK
FEATURES
SERVICES
Nomination are due October 15th for 2021 Oklahoma Paint and Appaloosa Futurity.

© Dustin Orona Photography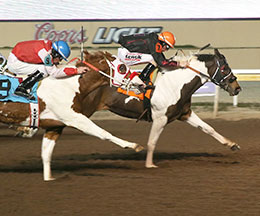 Nomination To The Oklahoma Paint & Appaloosa Futurity-G1 Due October 15
JAY, OK—OCTOBER 5, 2020—
Nomination for the $180,000 est. 2021 Oklahoma Paint and Appaloosa Futurity are due on Thursday, October 15.
APHA and ApHC foals of 2019 are eligible to nominate to the 300 yard race. Trials will be run at Remington Park on opening night, Friday, March 12 with the final set on Saturday, March 27.
The race includes $75,000 est. added money plus $5,000 added in Oklahoma Bred money (if eligible). A nomination fee of $400 is due on or before October 15.
CLICK HERE to download a nomination form and race conditions for the 2021 Oklahoma Paint and Appaloosa Futurity-G1.
All added money and conditions are subject to OHRC approval.
For additional information, contact Shari Burger at (918) 520-3103 or email burgershari@yahoo.com.