RACING THIS WEEK
FEATURES
SERVICES
Los Alamitos' runners were among the movers in the AQHA Racing Polls this week.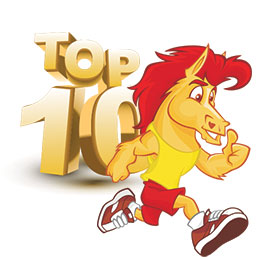 Los Alamitos Stakes Winners Move Up AQHA Racing Polls
AMERICAN QUARTER HORSE ASSOCIATION—NOVEMBER 12, 2020—
The biggest movers in the latest AQHA Racing National Polls were the winners of two recent million-dollar stakes at Los Alamitos Race Course, as Tell Cartel and Apollitcal Gold both debuted at No. 4 in their respective rankings.
Tell Cartel, a 3-year-old colt by Favorite Cartel, captured the $1,020,350 Los Alamitos Super Derby (G1) on November 8 to earn his spot in the older horse poll. The California-bred was winning his third derby of the year after victories in the El Primero del Ano Derby (G3) and Los Alamitos Winter Derby (G1).
Another 3-year-old, All American Derby (G1) winner Gold Heart Eagle V, retained the No. 1 spot in the poll, followed by multiple Grade 1 winners Dexxter and Danjer.
In the 2-year-old poll, Apollitical Gold got the attention of voters with a 12-1 upset win in the $1,070,550 Golden State Million Futurity (G1) on November 1. That marked the first stakes win for the Apollitical Jess gelding, who also finished third in the All American Futurity (G1) behind the undefeated Whistle Stop Cafe, who again took the top spot in the juvenile rankings.
Cyber Monday, winner of the Ruidoso Futurity (G1), and All American Futurity runner-up Instygator, who this past weekend set the fastest qualifying time for the Texas Classic Futurity (G1), were again ranked at No. 2 and No. 3, respectively.
The next set of AQHA Racing Polls will come out in the first week of December following the Grade 1 Texas Classic Derby and Futurity set to be contested on November 28 at Lone Star Park.
NATIONAL RANKINGS, 3-YEAR-OLDS AND OLDER
1. GOLD HEART EAGLE V (88)
2. DEXXTER (83)
3. DANJER (71)
4. TELL CARTEL (64)
5. CERS FINAL TRY (49)
6. RATIFICATION (40)
7. (tie) HOTSEMPTING (38)
7. (tie) VALIANT TIBERIAS (38)
9. INAUGURATOR (36)
10. CHOCOLATITO (14)
LOVE IS EVERYTHING V (8), FERNWEH (5), DREAMS DIVINE (3), TRUMP MY RECORD (3), GIRL WITH A PLAN (2), JESS MY HOCKS (2), WRS APOLLITICALIVORY (2), JESS B GLORY (1), POWERFUL FAVORITE (1), SS CLASSYJESS (1).
NATIONAL RANKINGS, 2-YEAR-OLDS
1. WHISTLE STOP CAFE (100)
2. CYBER MONDAY (80)
3. INSTYGATOR (68)
4. APOLLITCAL GOLD (60)
5. SHOTT GUN (55)
6. CHANCE TO EXCEL (50)
7. SAN LORENZO (39)
8. AINT SHE TEMPTING (30)
9. ONEMOREANDIAMGONE V (14)
10. A DOUBLE CORONA (13)
JETTZ (8), WOODYS GOLD (8), SHEZA FREIGHTTRAIN T (7), BAD MONKEY (3), FOR THE IRONY (3), ICY MORNING BREEZE (3), LA JACONDE (3), MONOPOLIST (3), HES INNOCENT (2), SIR LOUISIANA DASH (1).
* * * * * * * * * * * * * * * * *
The integrity of American Quarter Horse racing is of utmost importance to AQHA. As part of a multifaceted effort to ensure integrity, AQHA has instituted a policy concerning awards and publicity that makes horses with racing medication positives and horses trained by trainers with racing medication positives ineligible for the AQHA Racing National Polls. CLICK HERE to read the complete policy.
* * * * * * *
For the latest in American Quarter Horse racing news, visit aqha.com/racing.
AQHA News and information is a service of the American Quarter Horse Association. For more news and information, follow @AQHAnews on Twitter and visit aqha.com/news.