RACING THIS WEEK
FEATURES
SERVICES
Retama Park will operate as a training center from December 1st thru April 15.

© Coady Photography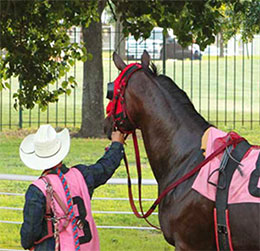 Retama Park To Open December 1st For Training
SELMA, TX—NOVEMBER 12, 2020—
Retama will open in training center mode on Tuesday, Dec. 1, 2020 and continue through Thursday, April 15, 2021.
Stalls are available at $8 per stall per day, with the opportunity for a 10 percent discount for payments made on time. Walkers and dorm rooms are available for an additional fee. The main dirt track will be open five days week, Tuesdays through Saturdays, from 7:00 a.m. through 11:00 a.m. The starting gate will be set on those days from 7:30 a.m. to 10:00 a.m.
Official workouts are available at no additional charge to horses stabled on the grounds. Ship-ins will pay a $20 daily fee for use of the track for workouts or any other purpose. Quarter Horse schooling races will be scheduled in February and early March 2021.
Retama Park is approximately a three-hour drive to Sam Houston Race Park for horsemen interested in participating at that track's 2021 Thoroughbred and Quarter Horse meets.
The Stall Application and Track Utilization Terms and Conditions are available in the horsemen section of the racetrack's website www.retamapark.com. For more information, see the Stall Application or call the race office at 210-651-7043.
Retama Park's 2021 live QH meet begins on Thursday, June 24 and goes through Saturday, Aug. 7 for a total of 20 days.