RACING THIS WEEK
FEATURES
SERVICES
Horseman Bobby Cox will be inducted into the Texas Cowboy Hall of Fame.

© Scott Martinez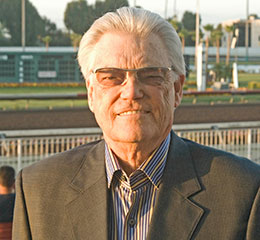 Bobby Cox Into Texas Cowboy Hall of Fame
Q RACING—NOVEMBER 20, 2020—
In the Quarter Horse racing world, Bobby Cox is a household name. The Fort Worth, Texas, resident has been running—and winning—with Quarter Horses since the 1970s.
Currently an American Quarter Horse and Texas Horse Racing Hall of Fame member, Cox is adding another feather to his cap with the induction to the Texas Cowboy Hall of Fame in 2021.
He is the third all-time leading breeder of racing Quarter Horses, and has bred more than 60 stakes-winning horses. Since 2000, Cox has earned more than $10 million as a racehorse owner, according to Equibase.
In 2004, Cox was named AQHA champion owner, and the AQHA champion breeder in 2016 and 2017; in 2010, the Texas Quarter Horse Association named him the accredited Texas breeder of the year for his horses' performances in 2009. Among his influential horses is champion Brimmerton and gelding Dont Let Down, both of which won the All American Derby (G1).
He also bred the 1st, 2nd and 4th place finishers in the 2020 Grade 1 $3-million All American Futurity—Whistle Stop Cafe ($1,974,986); Instygator ($579,041); and Jettz ($370,24).
Cox is a Navy veteran and an accomplished businessman, owning familiar brands such as Taco Villa and Rosa's Café & Tortilla Factory, which has more than 50 locations across Texas and surrounding states.
* * * * * * *
For the latest in American Quarter Horse racing news, visit aqha.com/racing.
AQHA News and information is a service of the American Quarter Horse Association. For more news and information, follow @AQHAnews on Twitter and visit aqha.com/news.