RACING THIS WEEK
FEATURES
SERVICES
Prairie Meadows live Thoroughbreds will begin racing Friday, April 30th and Quarter Horses are set for Friday, June 18th.

© Coady Photography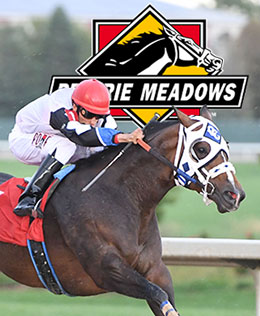 2021 Prairie Meadows Quarter Horse Racing Information and Nomination Links
ALTOONA, IA—JANUARY 9, 2021—
Prairie Meadows announced their 2021 live racing schedule today with Thoroughbreds to begin racing Friday, April 30th and Quarter Horses are set to begin Friday, June 18th.
The Iowa racetrack's format will continue to be Friday thru Monday with post times at 6pm on Fridays & Saturdays and 4pm on Sundays and Mondays (CDT). Post times tentative and subject to change. CLICK HERE for the complete 2021 race schedule.
Prairie Meadows will continue to offer a lucrative Quarter Horse Stakes schedule in 2021. CLICK HERE for more information about dates, races, and purses.
The Iowa Quarter Horse Racing Association. IQHRA is the official representative for Quarter Horse Racing in the state of Iowa. Its mission is to support and enhance the ownership, breeding, and racing experience for its members. CLICK HERE for additional information and an IQHRA membership application.
CLICK HERE to download nomination forms and find additional information on the 2021 Prairie Meadows Quarter Horse Meet.
Payments for all Iowa bred Futurity and Derby races must be sent to IQHRA – Attn: John Lawless. Payments for the Prairie Meadows Gold Futurity and Derby and Valley Junction Futurity and Altoona Derby can be sent to Prairie Meadows – Attn: Martha Harsch/Racing Office:
2021 Hawkeye Futurity (Iowa Bred)
2021 Cyclone Derby (Iowa Bred)
2021 Prairie Meadows Gold Futurity
2021 Prairie Meadows Gold Derby
2021 Iowa Stallion QH Futurity (Iowa Bred)
2021 Iowa Stallion Derby (Iowa Bred)
2021 Valley Junction Futurity (GIII)
2021 Altoona Derby
2021 Jim Bader Futurity (Iowa Bred)
2021 Polk County Derby (Iowa Bred)
You will be notified via email, if your nomination information has been accepted.
About Prairie Meadows
Prairie Meadows began operations as a nonprofit organization in 1989 with the goal of promoting economic development, jobs, agriculture, and tourism in the state of Iowa. Through taxes, grants, and charitable donations, Prairie Meadows has given more than $1.8 billion to the state of Iowa. Prairie Meadows offers more than 1,700 slot machines, table games, live and simulcast racing, hotel accommodations, entertainment, and more.
.