RACING THIS WEEK
FEATURES
SERVICES
Episode 2 of "The Making Of A Sire - Gold Eagle Heart V" is now available on StallioneSearch.com.

© StalioneSearch / Greg Thompson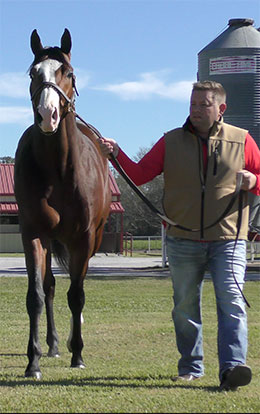 The Making Of A Sire: Gold Heart Eagle V - Episode 2(VIDEO)
DALLAS, TX—JANUARY 11, 2021—
StallioneSearch.com releases Episode 2 of their short film series "The Making of a Sire" on the recently retired All American Derby(G1) winner
Gold Heart Eagle V
, who is set to begin his stud career at
Robicheaux Ranch, Inc.
in Breaux Bridge, Louisiana next month.
The short film, written and produced by StallioneSearch's Greg Thompson, chronicles the top sire prospect retiring from his impressive race career as he prepares to enters a stud career in Louisiana in 2021.
The multi-part video series explores Gold Heart Eagle V'S impressive racing career in interviews with former owner Sammy Valeriano, AQHA Racing Champion jockey James Flores, 2021's leading trainer of money earners Monty Arrossa and Robicheaux Ranch stallion manager Ryan Robicheaux.
Simmons Racing purchased the Grade 1 winner in October.
CLICK HERE to watch Episode 2 of The Making Of A Sire: Gold Heart Eagle V.
* * * * * * * * * * * * * * * * * *
The short-film is a paid advertisement by the connections of Gold Heart Eagle V. The Grade 1 winning son of leading sire One Famous Eagle was retired to his stud career with earnings of $530,883. Gold Heart Eagle V won the $1,078,098 Grade 1 All American Derby and finished third in the $710,414 Grade 1 Rainbow Derby(G1) in 2020.