RACING THIS WEEK
FEATURES
SERVICES
Horsewoman Judi Green passed away on January 5 in Levelland, Texas.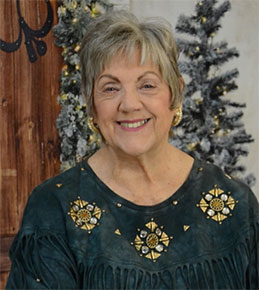 Longtime Horsewoman Judi Green Dies
LEVELLAND, TX—JANUARY 12, 2020—
Judith Rae "Judi" Green, 80, died peacefully, January 5, 2021 in Levelland, Texas.
Judi was born November 27, 1940 to Ray and Virginia Hamilton in Carmel, California. Judi graduated high school in Kennewick, Washington in 1957.
In 1958, Judi won Miss Rodeo Washington State and ran for Miss Rodeo America. In 1959 she met Peter LeRoy Green in Ellensburg Washington and later married him on August 3, 1963.
Also in 1963 she received her Bachelor of Science in Elementary Education from Central Washington State College.
In 1962 she helped her father start Sun Downs Race Track in Kennewick. Judi trained several AQHA youth champions between 1969 and 1974 along with the horses involved and a judge for AQHA from 1975-1985.
In 1985, Judi started her racing horse program. She raced from Mexico to Canada and by 2005 she had already made over a million in racing accolades as a breeder, trainer and owner.
In 1990, she got her Masters of Bilingual Studies from Texas Women's University and retired in 2003 after 38 years of teaching. In her spare time she gave riding lessons, trained horses with all AQHA disciplines.
She was a common go to for bloodlines and breeding information.
Judi was proceeded in death by her father, Ray Hamilton. Her mother, Gin Hamilton. Her sister, LeeAnn Hamilton and her husband Pete Green. Judi is survived by her son, Chris L. Green and daughter-in-law, Shelley Green.
In lieu of flowers please make donations to the National High School Rodeo Association or your local FFA chapter.