RACING THIS WEEK
FEATURES
SERVICES
OQHRA will conducted their Board of Directors Meeting on January 19 at Remington Park.

© Dustin Orona Photography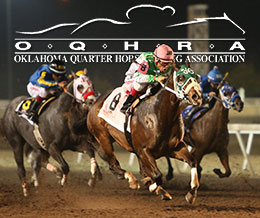 Board of Directors Meeting January 19 at Remington Park
OKLAHOMA CITY, OK—JANUARY 12, 2020—
Oklahoma Quarter Horse Racing Association Board of Directors Meeting will be held at Remington Park in the Eclipse Suite on January 19, 2021 at 12pm.
Everyone will need to enter through the Racing entrance
Masks are required & everyone will have their temperature taken
RSVP's requested for any non-board member wishing to attend in order to ensure sufficient lunches provided.
Please RSVP by Monday, January 18 at noon.
RSVP the OQHRA Office by noon on Monday the 18th if attending (405) 216-0440, an accurate count is needed for lunch orders.