RACING THIS WEEK
FEATURES
SERVICES
Track Superintendent's Field Day held at Indiana Grand in 2016.

© Linscott Photography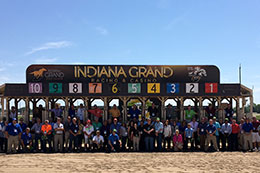 Track Supers Field Day Set for June 14-15 at Indiana Grand Racing & Casino
SHELBYVILLE, IN—FEBRUARY 22, 2021—
The organizers of the Track Superintendents Field Day are pleased to announce that the 20th edition of the event will be held June 14-15, 2021, at Indiana Grand Racing & Casino.
The event brings together track superintendents and staff annually to discuss best practices related to track maintenance, safety and operational issues for racing and training facilities worldwide.
"Because Track Supers Field Day is the only annual gathering for the hard-working men and women who help ensure the safety of our horses and riders, we felt it was important to have the event this year after being forced to cancel in 2020 due to COVID-19," said Roy Smith, founder of the event and track superintendent at Indiana Grand for the past seven years. "We are proud to do our part to contribute to the greater good of the industry by helping put on this event at Indiana Grand, and we look forward to hosting attendees for two days of education, idea-sharing and comradery."
The event was originally scheduled to be held at Remington Park in Oklahoma City but was shifted to Indiana Grand for a central location that would allow more attendees to drive.
"We sincerely thank Remington Park for everything they did in the original planning of this event, and we hope to be able to hold a Track Supers Field Day there in the near future," added Smith.
"Caesars Racing is dedicated to safety at all of our facilities, so hosting this year's event was an easy decision for us," stated Joe Morris, Senior Vice President of Racing for Caesars.
"Thanks to the generosity of numerous sponsors, Track Supers Field Day invites track superintendents and staff to attend with no registration fee," said Steve Andersen of Equine Equipment, the event's title sponsor. "Attendees are only responsible for their transportation expenses, and a discounted hotel rate will be available soon. Sunday is a travel day this year, and meetings begin Monday morning. We'll have more details to release soon."
More than 100 attendees convened at the 2019 event held at Hollywood Casino at Charles Town in West Virginia. When the event was held at Indiana Grand in 2016, more than 90 attended internationally, including guests from England and Puerto Rico.
"For many years I never attended, and I didn't go the first 10 years or so," said Doug Bowling, track superintendent at Charles Town. "And then when I started attending, I saw how valuable the networking and friendships are. The classes are always helpful, but you get to put faces with names and develop relationships, and then you have the ability to call someone when you might need a little help. It's one of the greatest tools we have as track supers."
More information will be coming regarding registration, schedule and speakers at tracksupers.com.
* * * * * * * * * * * * * * * * * * *
Indiana Grand Racing & Casino, which is owned and operated by a subsidiary of Caesars Entertainment Corporation (NASDAQ: CZR), holds multiple awards for customer service, entertainment, gaming, dining, and diversity. Located in Shelbyville, Ind., Indiana Grand features more than 2,100 of the latest slots and table games in addition to a one-mile dirt racecourse and a seven-eighths mile turf course providing live Thoroughbred and Quarter Horse racing each year. Simulcast and sports wagering is also offered year-round at Winner's Circle Race Sports Pub located on the casino floor as well as a Winner's Circle Race Sports Pub located in Clarksville, Ind. For more information, please visit
www.IndianaGrand.com
.
Must be 18 or older to wager on horse racing at racetracks and 21 or older to gamble at sports books and casinos. Know When To Stop Before You Start.® Gambling Problem? Call 1-800-9-WITH-IT (1-800-994-8448) ©2020 Caesars License Company, LLC.