RACING THIS WEEK
FEATURES
SERVICES
Retama Park will resume training races next Tuesday, March 2nd.

© Bee Silva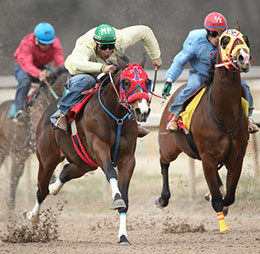 Retama Park's Tuesday Training Races Canceled, Expected To Run March 2nd
SELMA, TX—FEBRUARY 22, 2021—
Training races original reset for Tuesday (Feb 23) at Retama Park have been pushed another week due to sub-zero weather conditions throughout the state of Texas last week.
According to track racing secretary James Leatherman, Retama Park plans to run the next set of training races on Tuesday, March 2nd.
The San Antonio area racetrack was able to conduct their first of four scheduled training race days on February 2nd.
Additional schedule training dates* on the calendar are:
TUESDAY – MARCH 2, 2021 (Enter Tue. – Thu., Feb. 23-25)
TUESDAY – MARCH 23, 2021 (Enter Tue. – Thu., Mar. 16-18)
*Note – Additional dates may be added if necessary.
Training race overnights will be available in the race office at approximately 1:00 pm on Thursdays. The track will open at 6:30 a.m. (CST) and close for training at 10:30 a.m. on training race days. Training races will start at 12:00 noon (CST).
Horses stabled on the Retama Park grounds may enter the training races for a $45 fee, while ship-in will pay $60. All fees must be paid prior to running.
Trainers will be responsible to head their own horse(s) in the starting gate and rider and pony person fees are the responsibility of the trainer.
All trainers, riders and pony people must hold a current Texas Racing License. You will not be allowed on the track grounds without a license.
Riders, assistant starters and pony people must wear a safety vest and helmet. A copy of horse's registration certificates, front and back, is required to enter and must be on file with the race office as they will be used for entries and paddock identification.
Quarter Horses must have a negative piroplasmosis test. All breeds must have a negative Coggins test and an original Health certificate that shows vaccination for EHV-1 to be admitted. No exceptions.
Covid-19 protocols will be in effect. Please contact racing office for specifics.
For additional information visit the track's website at retamapark.com and click on the " For Horsmen" link.