RACING THIS WEEK
FEATURES
SERVICES
Paul Jordon and Doug Boring of the Track Maintenance crew at Indiana Grand prepare to unload dirt at Blue River Memorial Park for a future amphitheater project at the facility.

© Indiana Grand Racing & Casino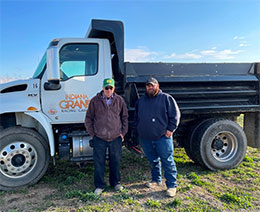 Indiana Grand Donates Old Track Surface Material To Community Project
SHELBYVILLE, IN—APRIL 7, 2021—
In preparation for a project on the horizon for Shelby Parks and Recreation, Indiana Grand Racing & Casino delivered two loads of dirt to Blue River Memorial Park Thursday, April 1.
The dirt, which was formerly used as racing surface on the track, will become part of the amphitheater area to be constructed at Blue River Memorial Park.
"The amphitheater at this time has no particular time frame," said Karen Martin, Executive Director of Shelby Parks and Recreation. "It is in our master plan. As we get dirt to create the mound for the audience to sit on, then preparations will get started for the rest."
Indiana Grand Track Maintenance Team Members Paul Jordon and Doug Boring delivered two truckloads of material to the site of the future amphitheater. The dirt equaled a total of 20 tons.
Once enough material has been collected, Doug Hunt, City of Shelbyville Street Commissioner, will begin forming the dirt into a "U" shape mound that will extend up at least 12 feet high. Once the mound is in place, drainage will be added and a staging area with dressing rooms will be constructed.
"After an extended period of time, the materials we use on the racetrack become less effective and it loses its bounce when the horses travel over it," said Roy Smith, Track Superintendent. "We take the material off and replace it with a fresh mixture of sand, silt and clay. The stockpile of previously used dirt will be perfect for the creation of the amphitheater."
Smith and his team are in final preparations for the upcoming 19th season of Thoroughbred and Quarter Horse racing, which begins Tuesday, April 13. They are working on both the one-mile dirt course as well as the seven-eighths mile turf course, which is currently equipped with turf blankets to strengthen the grass base and speed up the process of growth. Turf racing is set to commence in early May, pending weather conditions.
Live racing in 2021 will be conducted at 2:25 p.m. Monday through Wednesday with first post on Thursday set at 3:25 p.m. In addition, six all-Quarter Horse racing dates are set on select Saturdays starting June 5 at 10 a.m. A special Indiana Champions Day highlighting the state's top Thoroughbred and Quarter Horses will be held Saturday, Oct. 30 beginning at 12 p.m. More information about the 2021 racing season is available at indianagrand.com.
* * * * * * * * * * * * * * * * * * *
About Caesars Entertainment, Inc.
Caesars Entertainment, Inc. (NASDAQ: CZR) is the largest casino-entertainment company in the U.S. and one of the world's most diversified casino-entertainment providers. Since its beginning in Reno, Nevada, in 1937, Caesars Entertainment has grown through development of new resorts, expansions and acquisitions. Caesars Entertainment's resorts operate primarily under the Caesars®, Harrah's®, Horseshoe® and Eldorado® brand names. Caesars Entertainment offers diversified amenities and one-of-a-kind destinations, with a focus on building loyalty and value with its guests through a unique combination of impeccable service, operational excellence and technology leadership. Caesars Entertainment is committed to its employees, suppliers, communities and the environment through its PEOPLE PLANET PLAY framework. For more information, please visit
caesars.com/corporate
.
About Indiana Grand Racing & Casino
Indiana Grand Racing & Casino, which is owned and operated by a subsidiary of Caesars Entertainment Corporation (NASDAQ: CZR), holds multiple awards for customer service, entertainment, gaming, dining, and diversity. Located in Shelbyville, Ind., Indiana Grand features more than 2,100 of the latest slots and table games in addition to a one-mile dirt racecourse and a seven-eighths mile turf course providing live Thoroughbred and Quarter Horse racing each year. Simulcast and sports wagering is also offered year-round at Winner's Circle Race Sports Pub located on the casino floor as well as a Winner's Circle Race Sports Pub located in Clarksville, Ind.For more information, please visit www.IndianaGrand.com.
Must be 18 or older to wager on horse racing at racetracks and 21 or older to gamble at sports books and casinos. Know When To Stop Before You Start.® Gambling Problem? Call 1-800-9-WITH-IT (1-800-994-8448) ©2020 Caesars License Company, LLC.