RACING THIS WEEK
FEATURES
SERVICES
Home
>
Preview Racing
>First Official Test for 2-Year-Olds Set Saturday in Mardi Gras Futurity
SIr Edward L Perry will look for his first career stakes win in Saturday's $271,738 Mardi Gras Futurity (RG2) at Louisiana Downs.

© Ann Switalski / Lou Hodges Photography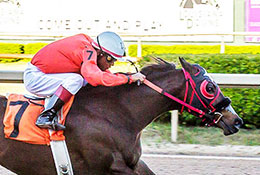 First Official Test for 2-Year-Olds Set Saturday in Mardi Gras Futurity
By Martha Claussen
BOOSIER CITY, LA—MARCH 13, 2017—This year's edition, the $271,738 Mardi Gras Futurity (RG2) will be held on Saturday at Louisiana Downs. An excellent field emerged from trials held last month.
The fastest qualifier in 15 trials run on February 25 was Sir Edward L Perry. The son of Sir Runaway Dash was bred by Leverne Perry, who was inducted into the inaugural LQHBA Hall of Fame last April.
Purchased as a weanling in the 2015 LQHBA Fall Mixed Sale for $2,000 by Filimon Saucedo, the bay gelding is trained by his son, Juan.
Perry bred Sir Edward L Perry from the Rebel Dasher mare Rebels Royal Lady. Perry, who passed away in 2016, was the longtime executive director or LQHBA and remains Executive Director Emeritus of the organization.
"I am so full of a mixed bag of emotions," said Leigh Perry Lepinski after the trials. "Sir Edward L Perry was bred by our late father Leverne Perry."
Lepinski is in good company remembering a father who gave so much to the Louisiana Quarter Horse Industry. Karen Darling Falgoust is the daughter of W. A. Darling, who will be inducted into this year's LQHBA Hall of Fame class on April 8. She is the breeder of fifth-fastest qualifier, Cos I Get It, a son of Tee Cos out of the First Comment mare Come An Get Me.
"I am, of course, thrilled to have Cos I Get It qualify for the Mardi Gras Futurity," said Falgoust. "He was quite a handful to raise, as a young colt, and he is my second Tee Cos to qualify for a stakes race. Tee Ray just recently won the Louisiana Downs Maiden Stakes race."
She admits that as excited as she is about her colt, who in her words "was quite an athlete as a yearling", top billing goes to her father's legacy.
Cos I Get It is one of several successful Tee Cos runners; Tee Ray just recently won the Louisiana Downs Maiden Stakes race. Falgoust has fond memories of a conversation she had with her dad about her expanded role in the family's breeding and racing operation.
Jose Sanchez had a very busy, but productive trial day, qualifying three fillies to the final. He trains the second-fastest qualifier, Shesa Diamond Diva, bred by Paul Fontenot, Jr. and owned by Cruz Nava. The winning rider was his son, Eddie Sanchez, who is just 19 years-old.
"Eddie will get to ride this filly back in the final," said Sanchez. "He has been riding for over a year, and won the Sires' Cup last year at Retama."
Raul Ramirez, Jr., who won last year's Mardi Gras Futurity aboard Rdd Lajollanfastdash, will ride Jorge Meraz's TTT Kas, who was the sixth-fastest qualifier.
"I went to Jose's farm and stood her in the gates on Wednesday (March 8)," said Ramirez. "She's a nice filly and I have good relationships with both Jorge and Jose."
Ramirez acknowledges that the success that Rdd Lajollanfastdash had throughout 2016 was exceptional. The veteran rider knows that in the early futurities, it is really about the basics.
"All you can ask for is for them to stand well in the gates and make no mistakes," he added.
The third of the Sanchez qualifiers is Alejandro Moya's homebred, Blue Eyed Fance. Francisco Calderon will ride the daughter of leading Louisiana stakes winning sire Jess Louisiana Blue.
Sanchez is one of several fathers sharing the big occasion with his son. Paretti, the tenth-fastest qualifier by first crop sire Jess Cuervo is owned by Keithon Roberts, who is the youngest son of trainer Kenneth Roberts, Sr. And as noted previously, Juan Saucedo trains Sir Edward L Perry, who is owned by his father, Filimon.
The Mardi Gras Futurity winner will receive a check for $122,282, but it's clear that family pride will far outweigh the fiscal rewards of this year's final.
The Mardi Gras Futurity (RG2), in post-position order, including jockey assignments:
Sir Edward L Perry (Luis Vivanco)
Cos I Get It (Damian Martinez)
Blue Eyed France (Francisco Calderon)
Paretti (Noe Castaneda)
Party From Hail (Santiago Mendez)
Hqh Runaway Gal (Santos Carrizales)
Jrs Natural Runaway (Randy Edison)
Angiesprizedpatriot (David Alvarez)
Shesa Diamond Diva (Eddie Sanchez)
TTT Kas (Raul Ramirez, Jr.)
* * * * * * * * * * * * * * * * * *
Martha Claussen served as publicity director at Sam Houston Race Park for ten years. She continues to be active in writing, fan education and Quarter Horse racing publicity in Texas, Louisiana and other regions in North America.