RACING THIS WEEK
FEATURES
SERVICES
Home
>
Preview Racing
>J Fire Up Heads Field To Grade 1 Golden State Million Sunday At Los Alamitos
Fastest qualifier J Fire Up will head Sunday's Grade 1, $938,850 Golden State Million Futurity at Los Alamitos.

© Scott Martinez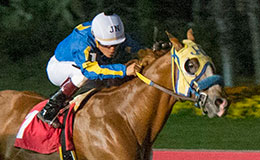 J Fire Up Heads Field To Grade 1 Golden State Million Sunday At Los Alamitos
LOS ALAMITOS, CA—NOVEMBER 4, 2017—
Jaime Gomez is the fourth all-time leading trainer at Los Alamitos in terms of Quarter Horse stakes with 87 victories.
Three of those stakes wins have come in the Grade 1 Golden State Million Futurity, first with Romeo Ryon in 1998 followed by back-to-back wins with millionaire champions Higher Fire in 2005 and Jess You And I in 2006.
Gomez's three victory in the Golden State Million tie him for second place in the history of this race with Bob Gilbert and John Bassett and only behind the great Blane Schvaneveldt's six wins.
Gomez's win with Higher Fire was an important one for the trainer, as he was a big part in breeding the wonderful filly. At the time, Gomez co-owned a young stallion named Walk Thru Fire, not yet the household name in Quarter Horse racing that he is today. Walk Thru Fire was bred to Dutch Masters III's Higher Math, and the result was Higher Fire, the champion 2-year-old and champion 2-year-old filly in 2005.
Gomez will now saddle fastest qualifier J Fire Up in Sunday's Grade 1, $938,850 Golden State Million Futurity at Los Alamitos, and there are some similarities between her and Higher Fire. Both fillies won a summer futurity at Los Alamitos - Higher Fire in the Grade 1 Ed Burke Million and J Fire Up in the Governor's Cup Futurity - and both placed in their stakes debut - Higher Fire running third in the Kindergarten and J Fire Up second in the Ed Burke Million. And like Higher Fire, Gomez was a big part in the breeding of J Fire Up, as she's the daughter of one Gomez's broodmares, the Walk Thru Fire mare This Boogie Fire.
"This Boogie Fires was a very quick filly," Gomez said. "She was the fastest qualifier to the La Primera Del Ano Derby (2012) and third fastest qualifier to the Kindergarten Futurity (in 2011). I had to retire her after the La Primera final, but she was a fast. I had always admired Kiddy Up, going back to the years that he was running. He was a strong finisher. I thought that he would be a great cross for a Walk Thru Fire mare with Strawfly Special on the bottom. I went ahead and bred This Boogie Fires to Kiddy Up and the result was J Fire Up."
Owned by Gomez in partnership with Darling Farms and Ernesto Solis, J Fire Up has been one of the top 2-year-olds of the meet. She'll enter the Golden State Million final having won four of six career starts with earnings of $332,725. She won her Golden State Million trial by 1 ¾ lengths in the fastest 400-yard qualifying time of :19.86. Jose Nicasio will ride her in the final from post number two.
"I wish she had the rail because she's won a couple of times from there, but she likes being inside," Gomez added. "She tries to lug in when she's drawn an outside post. She's happy and very sound. Those are the most important things.
Reliance Ranches LLC's Call Me Cole enters the Golden State Million Futurity as the second fastest qualifier and a major contender. The Corona Cartel colt is a perfect two-for-two in his races at Los Alamitos and his trial win was a solid half-length victory against fellow Golden State Million qualifier Remember To Dash.
Trained by Mike Robbins, who won the 1980 Golden State Futurity with Sgt Pepper Feature, Call Me Cole was bred by McColee Land & Livestock Inc. The Utah-bred colt was raised alongside KVN Corona, the unbeaten winner of the Ed Burke Million Futurity and PCQHRA Breeders Futurity. Call Me Cole is named after Cole Nellesen, the young son of Keith Nellesen, the owner of KVN Corona and a partner in the McColee Land & Livestock's Quarter Horse breeding operation. Call Me Cole is also a full brother to Reliance Ranches' Rip Tide, who has raced in the Los Alamitos Super Derby and Vessels Maturity at Los Alamitos.
"He's a very calm horse and doesn't let things get to him," Robbins said. "He's very professional."
Abigail Kawananakoa's Chance To Fire will look to continue his strong freshman campaign and is another one to watch in the Golden State Million final. The Ed Allred-bred gelding by Walk Thru Fire won his trial by 1 ¼ lengths and is now making his third futurity final. He was w after running third in the Ed Burke Million and second to J Fire Up in the Governor's Cup. Chance To Fire is from the family of All American Futurity winner Elans Special. Chance To Fire comes in as the third fastest qualifier.
Paul Jones, Thompson Racing LLC, and Martha Wells' Unblemished broke in and bumped at the start, but then flew the rest of the way to post a ¾ length win in trial. The Foose gelding posted the fourth fastest time while enjoying his third career victory. Jones has won the Golden State Million as a trainer twice before. He saddled winners Eye For Corona in 2007 and Igotyourtac in 2011.
Ron Hartley's The Revenant and Parsons Ranch's A Political Lady both come out of the same trial and are strong candidates to win. The Revenant will be making his third futurity final after also running in the Governor's Cup and PCQHRA Breeders. Black Fryday, Remember To Dash, Matilda Czech, and Famous N Hot will complete the field.
Courtesy of www.losalamitos.com.