RACING THIS WEEK
FEATURES
SERVICES
Home
>
Preview Racing
>He Looks Hot, Bh Lisas Boy Headline Strong Field In Brad Mckinzie Los Alamitos Winter Championship
He Looks Hot will start from the outside post number 10 in Sunday's Grade 1 $157,250 Brad McKinzie Los Alamitos Winter Championship.

© Scott Martinez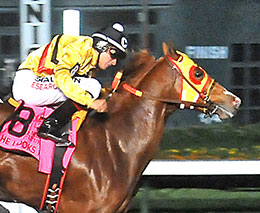 He Looks Hot, Bh Lisas Boy Headline Strong Field In Brad Mckinzie Los Alamitos Winter Championship
LOS ALAMITOS, CA-FEBRUARY 9, 2018-
The running of the Brad McKinzie Los Alamitos Winter Championship could provide some special moments for Los Alamitos Race Course owner Ed Allred.
The Grade 1 race is already one that's close to Allred's heart, as he named it in honor of his longtime friend and employee after his passing last August. And it would certainly be a emotional winner's circle moment if Allred was to win the Brad McKinzie with his outstanding homebred He Looks Hot, a three-time Grade 1 winner who posted the fastest qualifying time to this race back on January 21. Allred hired McKinzie to be Los Alamitos' general manager in the early 1990s, and over the years assigned him several major projects for the track, including overseeing Los Alamitos' expansion to host daytime Southern California Thoroughbred racing. The Walk Thru Fire gelding He Looks Hot is certainly capable of delivering a win after rocketing to a 1-½ length victory in the second of two trial heats.
"The horse is fit and ready to go," said Scott Willoughby, who trains He Looks Hot. "He came out of his trial great. His foot is doing well. He had been dealing with an abscess (prior to the trials), but he's over it. Foot problems are foot problems, but he's looking good right now."
To be ridden by Cesar Gomez, the millionaire He Looks Hot will start from the outside post number 10.
"He runs well from any spot on the racetrack, but he likes the outside and has done well from there in the past," Willoughby added.
He Looks Hot will enter the Brad McKinzie having won over seven of 24 starts and earned $1,101,539.
Bill Hoburg's BH Lisas Boy won the Winter Championship last year and will have an opportunity to defend his title despite going on the veterinarian list after bleeding when running third in his trial race. BH Lisas Boy had to post one official work 15 days after his trial, but because the racing surface at Los Alamitos was undergoing renovation, Hoburg had to go to plan B, which consisted in shipping the horse about 35 miles north to Santa Anita Park on Super Bowl Sunday to work him on Monday, February 5 - exactly 15 days after his trial race. BH Lisas Boy worked 220 yards in :12.60 at the Great Race Place in Arcadia with no setbacks. He'll start from post number two in the Brad McKinzie.
"Being raised in the Northwest we do a lot of hauling and racing," Hoburg said. "BH Lisas Boy has been hauled to Boise, Portland, Denver, Dallas, you name it. He's used to hauling. I have to give a lot of credit to Scott Craigmyle, the track stall superintendent at Los Alamitos for helping me set up the workout at Santa Anita."
And while an estimated 103.4 million people were watching the Super Bowl on Sunday, Hoburg was on the San Gabriel River Freeway (605 North) with BH Lisas Boy.
"It was a nice drive because most everyone was watching the football game," Hoburg said. "The people at Santa Anita treated us very well. They had a stall bedded for him when we arrived on Sunday and the horse went in and he looked like he was right at home. Everything went smooth and in fact it was a lot of fun and the workout was as exciting as watching him race. People came by to look at him in the stall and there were about a dozen people by the rail just to watch him work. It was a lot of fun. After the work and a nice bath, I hand walked him and he was playing around and posturing. That was good."
A Quarter Horse working on the track at Santa Anita was indeed a unique sight.
"They were telling me that the last Quarter Horse to work at Santa Anita was Griswold for his big match race over 25 years ago. It was a lot of fun," Hoburg added. "We left Santa Anita at around 11:30 a.m. and it was a short drive back to Los Alamitos. We'll now stand him at around 6:30 a.m. on Friday morning."
Darling Farms and Jaime Gomez's LD Is Back won the Winter Championship trial that featured BH Lisas Boy by a nose over 2016 Champion of Champions winner Zoomin For Spuds. The Gerardo Pasquel-bred LD Is Back will be starting from post number one with Eduardo Nicasio in the irons.
Mark and Peggy Brown's homebred Kissed By An Eagle is one to watch. The One Famous Eagle gelding has hit the board in 14 of 17 career starts and has proven capable of contending in major Grade 1 events in the past. He was third in the Grade 1 Los Alamitos Super Derby and second in the Grade 2 Southern California Derby last year.
The aforementioned Zoomin For Spuds, Air Force Won, Worth Doing, Seared, Da One Two Special, and Jess Hawk will complete the field.
Brad McKinzie's mother, Jean, and his brother, Mark, will be on hand at Los Alamitos to present the trophy to the winning owner of this Grade 1 event.
Courtesy of www.losalamitos.com.