RACING THIS WEEK
FEATURES
SERVICES
AQHA Racing's Canadian Champion One Kool Wave will be back in action in 2018 at Ajax Downs.

© Horse Canada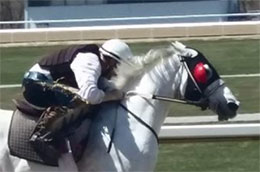 Ajax Downs Opens 49th Quarter Horse Season on Sunday
AJAX, ONTóMAY 4, 2018ó
While the last year has been a tumultuous time for the track and its town, Ajax Downs will open its 49th season of Quarter Horse Racing on Sunday.
A six-race card will get underway at 12:55 pm (EDT).
The featured 5th race will feture 10-year-old champion One Kool Wave, the Canadian Horse of the Year in 2002 and a 23-time winner.
The son of Wave Carver will head a field chasing $19,000 at 250 yards.
Owned by DK Training Centre and breeder Bob Bailey, One Kool Wave appears to be ready to roll based on his workout on Monday when he blitzed 220 yards in :12.24, the second fastest for the distance that day. Regular rider Brian Bell will be aboard the grey gelding.
The open allowance will also feature Artic Fame, a son of Dash To The Artic who won more races than any other older horse in North America last year with seven wins from nine starts. Artic Fame is owned by George Coleman and trained by Scott Reid. Cassandra Jeschke will ride.
Ralph Pearsonís talented Sixes Royal 8-year-old Countrys Comin Bac, a 3-time winner in 2017 is also in the field with 2017 leading rider Ramiro Castillo on board.
Completing the field for the feature is Memories Times Six, owned by the Picov Cattle Company and the mare Runaway Cause, owned by Rene Hunderup and Darlene Ballis Hunderup.
There are many reasons to be optimistic about the state of Quarter Horse Racing in Ontario, according to an article published Thursday on horse-candad.com. The recent announcement of long-term funding for horse racing pledging money to tracks through the next 19 years softens the blow somewhat of the casino issue in which plans for a casino and vast entertainment district known as Durham Live in nearby Pickering has left the Ajax Casino on shaky ground.
The track and the town of Ajax, including Mayor Steve Parish have been working hard to keep the Ajax Casino and the battle continues as the first of 20 race dates gets underway.
The quality of horses racing at Ajax, the only Quarter Horse track in Ontario and the biggest one in Canada, has improved in recent years and 2018 will see the return of 2017 Champions as well as a lot of new faces.
Country Boy 123, named Horse of the Year at Ajax by the Quarter Racing Owners of Ontario Inc. for the second consecutive year, is gearing up for his 5-year-old campaign for owner Ruth Barbour. He is by champion Country Chicks Man.
The unbeaten 2-year-old Had To Be Ivory, by multiple stakes sire Ivory James, is preparing for his sophomore season for trainer Bryn Robertson and he has been an exciting runner to watch.
The ever-growing stable of owner Milena Kwiecien should be a force again this season. Kwiecienís horses, trained by Jason Pascoe, wintered in Oklahoma and many have been racing at Remington Park with success.
Among Kwiecien's stars are Maryland Magic and LS Prince.
Ajax Downs has numerous events in store for fans. The track has seen an increase in attendance in the last few years as its on-track events have become more popular. Ajax has a Fan Appreciation day with cash voucher giveaways, a Party on the Patio, Canada Day celebration and a Craft Beer event.
All the events can be found at ajaxdowns.com.