RACING THIS WEEK
FEATURES
SERVICES
Home
>
Preview Racing
>Top Juveniles To Race In California's Richest Race Of 2018, The Two Million Futurity
Fastest qualifier Ali Babe Foose, under jockey Jose Nicasio, will head the $1,878,425 Los Alamitos Two Million Futurity(G1) on Sunday night.

© Scott Martinez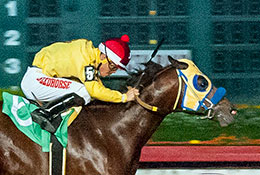 Top Juveniles To Race In California's Richest Race Of 2018, The Two Million Futurity
LOS ALAMITOS, CA—DECEMBER 15, 2018—
Los Alamitos Race Course has saved its richest race for last, as the final night program of the year-long Quarter Horse meet will feature California's richest horse race of any breed in 2018, the Grade 1 Los Alamitos Two Million Futurity at 400 yards on Sunday night.
Now in its 24th running, the lucrative futurity will offer total prize money of $1,878,425. The winner of the rich dash will earn a first place check worth $771,298.50 or $1,928.25 per yard raced.
The 10-horse field of 2-year-olds could be one of the best races ever in the history of this race based on some of the tremendous victories posted by several of the qualifiers in the trials back on November 25.
Cesar Dabdoub's Ali Babe Foose, who recorded the fastest qualifying time, won his trial by an eye-popping 3 ˝ lengths, surely one of the biggest win margins in a 400-yard race this season.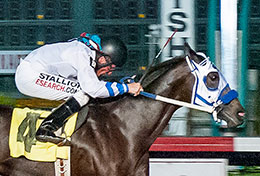 Ten-time AQHA Racing champion jockey G.R. Carter, Jr. will be aboard Golden State Million Futurity(G1) winner Flash And Roll.
© Scott Martinez
Other impressive trial winners were Rosenthal Ranch's Governor's Cup Futurity winner Powerful Favorite, a two-length winner in his trial, Scott Bryant's Grade 1 winning filly Flash And Roll, a 1 ˝ length winner in her heat, plus daylight winner Lethal Lil and strong winners Dexxter, Apollitical Pence, Transcend and Seaduction. Mister Appolitical and Deceiver will complete the field in the Los Alamitos Two Million Futurity.
To be ridden by Jose Nicasio for trainer Jaime Gomez, Ali Babe Foose will start from post number two following his convincing victory. The Foose colt is from the decorated family of broodmare Babe On The Fly. Ali Babe Foose's full brother is the Grade 1 stakes winner Rock You and his half-siblings include the Golden State Million Futurity winning filly Little Talks and the stakes winner Fly Thru The Fire. Gomez has won two previous runnings of this race, including last year's Two Million with AQHA champion 2-year-old J Fire Up from post number one.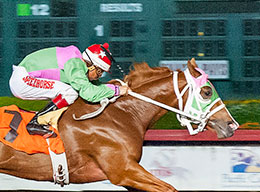 Jockey Edwardo Nicasio will ride Governor's Cup Futurity winner Powerful Effort in Saturday's Los Alamitos Two Million Futurity(G1).
© Scott Martinez
"The most important part is that Ali Babe
Foose
doesn't get bumped around," Gomez said. "If he can avoid trouble, then we'll see if we can get lucky and win this race again."
To be ridden by G.R. Carter for trainer Justin Joiner, Flash And Roll has been perfect in her three starts at Los Alamitos. Bred by Julianna Hawn Holt and owned by Scott Bryant, Flash And Roll has posted wire-to-wire victories in each of her three local starts. Her past performance lines show that no horse has been within a half-length of her at any of the points of calls during those outings.
"That filly, she's tough," Joiner said. "She's a great gate horse. She gets a little wound up in the post parades so it surprises me a little bit that she is such a good gate horse. She goes in there and she parks and she goes to the other end. Luckily in the trials being in the third trial we have been a little lucky because we got to sit (on our time). We still have a lot of horse left. I expect good things. I have a little jockey left too in G.R. Carter, but I'm going to try to empty the tank on him since he is going to retire anyway."
Rosenthal Ranch's Powerful Favorite is one of two juveniles to have qualified to the Ed Burke Million Futurity, Golden State Million Futurity and Los Alamitos Two Million Futurity. He also won the Governor's Cup Futurity for trainer Chris O'Dell and jockey Eduardo Nicasio.
"He's been my favorite since we started working with the babies at the beginning of the year," Nicasio said. "He was my first pick. The horse ran so well, especially in his first few starts. He became a little rougher in the gate so Chris decided to use the flipping halter and the change worked great. The horse ran a great trial. I'm just hoping to get a clear shot to run in the final and if we win or lose, I just want to see the horse run his race in the final."
Dunn Ranch's Apollitical Pence is the other 2-year-old to have made all three major futurities at Los Alamitos. He's also one of two Monty Arrossa and Dunn Ranch-runners in action in the Two Million.
Like Arrossa, Gomez will have two runners in the starting gate on Sunday. In addition to Ali Babe Foose, he'll also saddle Dexxter, who'll be ridden by 2016 Los Alamitos' leading rider Cesar De Alba. The 37-year-old will retire from race riding following the running of the Two Million.
* * * * * * * * * * * * * * * * *
Courtesy of www.losalamitos.com.