RACING THIS WEEK
FEATURES
SERVICES
Home
>
Preview Racing
>Remington Park Opening Night Features Large Fields, 7 Derby Trials and The Mighty Deck Three Stakes
Bob Moore Stakes winner Valiant Rogue will be among 10 hopefuls in Friday's $68,000 Mighty Deck Three Stakes for Oklahoma-breds.

© Dustin Orona Photography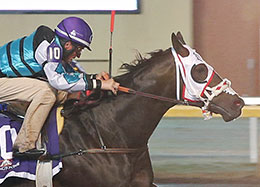 Remington Park Opening Night Features Large Fields, 7 Derby Trials and The Mighty Deck Three Stakes
OKLAHOMA CITY, OK—MARCH 5, 2019—
The 2019 Remington Park American Quarter Horse, Paint and Appaloosa Season begins Friday, March 8 with the first race at 6pm. The 12-race program was set today by the Remington Park racing office with seven trials for the Oklahoma Derby and the $68,000 Mighty Deck Three Stakes leading the card.
A total of 132 horses entered the dozen races on Friday night for an average field size of 11 per race. The total purse amount for the evening is $220,600.
There will be seven qualifying trials for the Grade 3, $255,750 Oklahoma Derby with the fastest 10 over the 350 yards moving on to the final on March 23. Some notables with 2-year-old success in 2018 will attempt to reach the Oklahoma Derby, including:
Might B Magic (trial 1): Oklahoma Mystery Futurity winner last November at Will Rogers Downs in Claremore
Flashing Candy (trial 1): third in the $1,000,000 Rainbow Futurity at Ruidoso Downs last July
Long Wagon Ho (trial 6): winner of the Oklahoma Futurity last March at Remington Park
Rappid (trial 7): Speedhorse Futurity winner last July at Fair Meadows Tulsa

The Oklahoma Derby trials will be conducted in races three thru nine on Friday night.

The $68,000 Mighty Deck Three Stakes for eligible Oklahoma-breds, three and older, at 250 yards takes place after the Oklahoma Derby trials. Some notables for the race named after the ultra-fast Mighty Deck Three who dominated 2-year-old competition in 1980 and was voted AQHA Champion 2-year-old that year, include: Valiant Rogue, winner of the Bob Moore Stakes at Remington Park in 2018; Hazel Dazel, winner of the Oklahoma Mystery Derby in November 2018 at Will Rogers Downs; First Of 15, second in the 2018 Remington Park Derby; and Disco Wagon, winner of the Canterbury Park Derby in July 2018.

The field for the Mighty Deck Three Stakes, with trainer and jockey, by post position and program order:

Peighnt Your Fate: Mike Robbins, Stormy Smith
Valiant Rogue: James Padgett, Rodrigo Vallejo
Admiral Sting: Eddie Willis, Jimmy Brooks
Bout Tree Fiddy: Pat Swan, Ricky Ramirez
Hazel Dazel: Rick Robinson, James Flores
Bird Train: Matthew Eck, Alfredo Triana, Jr.
Eye Eye Captain: Guillermo Valdivia, Rolando Raudales
First Of 15: Jason Olmstead, Cristian Esqueda
PV Queen Bee Candy: Clint Crawford, Esgar Ramirez
Disco Wagon: Stacy Charette-Hill, Jorge Torres

The Mighty Deck Three Stakes is race 10 on Friday night with a scheduled post time of 10:01 pm (CST).

The Opening Weekend at Remington Park includes racing on Friday and Saturday, March 8 & 9, at 6pm, and Sunday, March 10 racing at 1:30pm. Trials for the Grade 2 Oklahoma Futurity will be held on Saturday night with trials for the Oklahoma Paint/Appaloosa Futurity and the Speedhorse Graham Derby held on Sunday afternoon.

Remington Park is always open for casino gaming. Simulcast horse racing is offered daily. Admission, parking and valet parking are always free at Remington Park. Guests must be 18 or older in order to wager on horse racing or to enter the casino.

* * * * * * * * * * * * * * * * * * * * * * *

Tracked by more than 150,000 fans on Facebook and more than 9,800 Twitter followers, Remington Park has provided more than $214 Million to the State of Oklahoma general education fund since the opening of the casino in 2005. Home to the historic Grade 2 Oklahoma Futurity, to be run for the 78th time on March 23, 2019, Remington Park is located at the junction of Interstates 35 & 44, in the heart of the Oklahoma City Adventure District. For more information, reservations and group bookings please call 405-424-1000, 866-456-9880 or visit remingtonpark.com

.