RACING THIS WEEK
FEATURES
SERVICES
Consignments for the 2017 Heritage Place Yearling Sale are due June 17.

© Heritage Place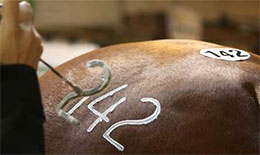 39th Annual Heritage Place Quarter Horse Yearling Sale Consignments Due June 17
OKLAHOMA CITY, OK—MAY 17, 2016—
Horsemen and women who get their consignments for the 39th Annual Heritage Place Quarter Horse Yearling Sale submitted on or before Saturday, June 17th can save $50. Any consignments received after the June 17 due date will pay $650.
"I would encourage you to submit consignments as soon as possible to insure timely printing, circulation and advertising of the Yearlings that will be marketed in this sale," Heritage Place General Manager Spence Kidney said today.
This year's Quarter Horse Yearling Sale will be held September 21st through the 23rd, with the evening of the 20th being a Pre-Sale Party complete with live entertainment, food and drinks.
"Last year we had a great catalog of more than 800 yearlings and due to the tremendous success that we have seen from buyers and consignors over the past year, we are very excited about this year's Heritage Place Quarter Horse Yearling Sale," Kidney said.
CLICK HERE to download a consignment form or visit the sale company's website at heritageplace.com.
Heritage Place continues to make changes and upgrades to their facility as well as adding the most up to date equipment to enhance their business model.
"We have held to this commitment and will continue to look for ways to make improvements. If you haven't been to Heritage Place lately, consider this your invitation to visit us and help celebrate our 38th Anniversary," Kidney said.
Asteris will continue to manage the Radiograph Repository for Heritage Place. This is a tremendous tool for potential buyers to use when selecting yearlings and provides another marketing tool for consignors to utilize as well. Recent improvements to the Asteris systems make it easier than ever to submit and view radiographs from anywhere in the country.
"We believe the auction method of marketing will continue to yield positive results for our consignors and Heritage Places stands ready to get the job done for you," Kidney said. "We want to take this opportunity to thank the industry for your support and business over the past 39 years and for allowing us to remain the place "Where Champions Are Sold", he added.
For more information on Heritage Place's upcoming sales, visit heritagepalce.com or for assistance with consignments call the sale company at 405.682.4551.