RACING THIS WEEK
FEATURES
SERVICES
Horsemen have until Friday to consign their yearlings, mares, stallions and horses of racing age to the 2017 Heritage Place Gall Mixed Sale.

© Heritage Place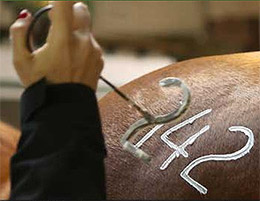 Heritage Place Mixed Fall Consignment Deadline Friday
OKLAHOMA CITY, OK—AUGUST 23, 2017—
The consignment deadline for the 40th Annual Heritage Place Fall Mixed Sale is Friday, August 25. The annual Fall Mixed Sale will be held November 3-4, 2017 in Oklahoma City.
"This sale has proven to be a great option for horses of all ages including yearlings," Heritage Place General Manger Spence Kidney said.. "The yearling session will also feature a select group of Barrel Racing Yearlings. We consider the Fall Sale as a great time of year to sell your broodmares, especially mares due to foal early as well as open or maiden mares. This allows buyers sufficient time to establish a plan and make arrangements prior to breeding season," he added.
To download a consignment form CLICK HERE or visit the sale company's website at heritageplace.com.
Heritage Place will also be televising the Breeders Cup Races inside the Heritage Place Club during the annual fall sale.  Full simulcast will be available throughout the weekend. 
"We want to take this opportunity to thank the industry for supporting Heritage Place for 39 years.  We continue our commitment to serving your horse auction needs and invite any ideas or concerns you might have.  Again, thank you for your business and for allowing Heritage Place to remain the place "Where Champions Are Sold," Kidney added.
For more information on Heritage Place's upcoming sales, visit heritagepalce.com or for assistance with consignments call the sale company at 405.682.4551.